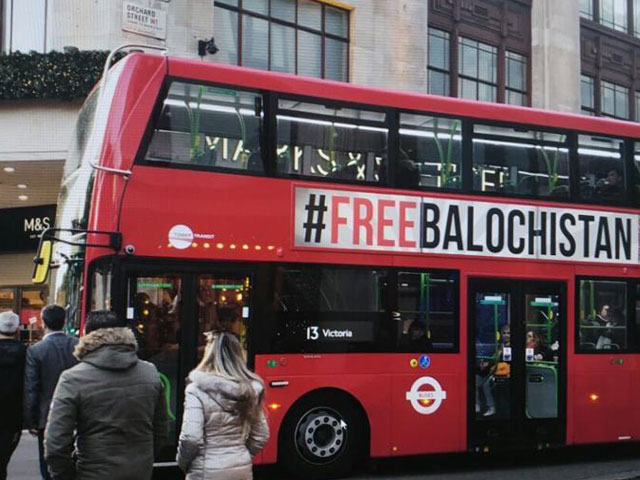 ---
The Foreign Office appreciated prompt action by the British government against the display of anti-Pakistan ads on London cabs while also hoping that same action will be taken against such slogans now being spread through London buses.

"Pakistan appreciates the prompt steps taken by UK government on the display of anti-Pakistan propaganda on London Cabs, which are a violation of the UN Charter.  Pakistan also believes that it will also take action against the display of anti-Pakistan slogans which are now affixed to London buses," FO spokesperson Dr Muhammad Faisal said in his weekly briefing.

"Our high commission in London has already taken this up with the Foreign and Commonwealth Office and the relevant authorities," he added.

The new controversial anti-Pakistan advertisement appeared in over 100 buses in London just days after a similar campaign on London taxicabs drew strong condemnation from Islamabad.

Anti-Pakistan ads on London cabs anger Islamabad

Responding to the latest controversy, the British high commissioner issued a statement in which he acknowledged Pakistan's unease over the advertisements in London.

"..Our own position is clear: we fully respect the sovereignty and territorial integrity of Pakistan, of which Balochistan is and will continue to be an integral part," he was quoted as saying by the British diplomatic mission in Islamabad.

Speaking about the continuous ceasefire violations by Indian forces along the Line of Control (LoC), the FO spokesperson said Indian deputy high commissioner was summoned to condemn the recent brutality in which 75-year-old woman named Mehmooda Begum w/o MSher Wali Muhammad was killed.

"In 2017, to date, the Indian occupation forces have carried out more than 1,300 ceasefire violations along the LoC and the Working Boundary, resulting in the killing of 50 innocent civilians and injuries to 165. This is a phenomenal increase as compared to 382 ceasefire violations in 2016," he said.
COMMENTS (1)
Comments are moderated and generally will be posted if they are on-topic and not abusive.
For more information, please see our Comments FAQ