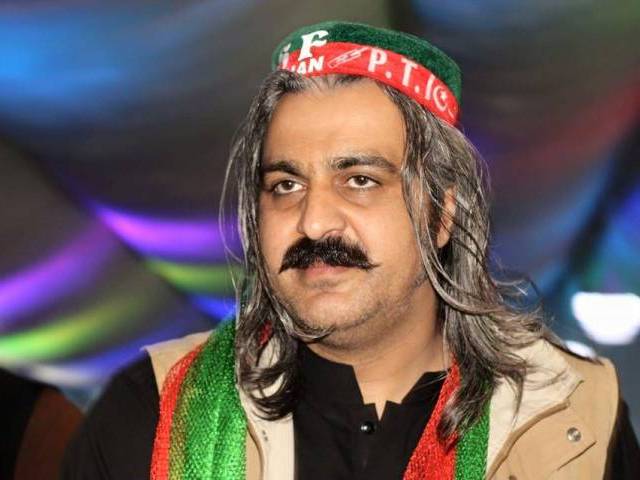 ---
PESHAWAR: Pakistan People's Party's (PPP) Khyber-Pakhtunkhwa (K-P) MPA Nighat Orakzai demanded on Saturday the immediate arrest of provincial revenue minister Ali Amin Gandapur of the Pakistan Tehreek-e-Insaf (PTI) for patronising the criminals who paraded a girl naked in Dera Ismail Khan.

Addressing a press conference at the Peshawar Press Club, the PPP MPA announced that her party would stage a sit-in outside the girl's home in Ghara Matt village until PTI chief Imran Khan came there to meet the affected family.

Orakzai said there was no protection for women in Dera Ismail Khan.

"The [provincial] government and the lawmaker [Gandapur] are supporting the criminals who committed such a horrible crime," she maintained.

PTI MNA demands removal of Ali Amin Gandapur over alleged involvement in parading girl naked

The PPP MPA, who is also a PPP K-P women's wing leader, criticised the K-P government as well as non-governmental organisations (NGOs) for their silence over the incident.

"Where are the NGOs which receive billions from international donors for championing the cause of women's rights?" she asked.

She also lashed out at the Commission on the Status of Women and other human rights organisations for not taking up the issue.

Orakzai said the Dera Ismail Khan police had first booked the family of the girl and only registered an FIR against the criminals after social media outrage pressured them to do so.

She demanded that the police should take action against Gandapur and his uncle, who were supporting the men involved in the crime.

Four men accused of parading girl naked in DI Khan village confess to their crime

The PPP MPA also lashed out at Jamiat Ulema-e Islam-Fazl chief Fazlur Rehman and Jamaat-e-Islami's Sirajul Haq for remaining silent on the issue.

On Friday, PTI's own MNA Dawar Khan Kundi also demanded Gandapur's removal for allegedly providing 'logistic and physical support to the criminals' involved in parading the girl naked.

On the morning of October 27,  nine men paraded a girl naked in Ghara Matt village of Dera Ismail Khan.

Eight of them have been arrested while one is still at large.

According to the police, the girl's brother had a premarital affair with a woman. After learning about it, the village's council ruled that the woman's family could retaliate by disrespecting his sister.