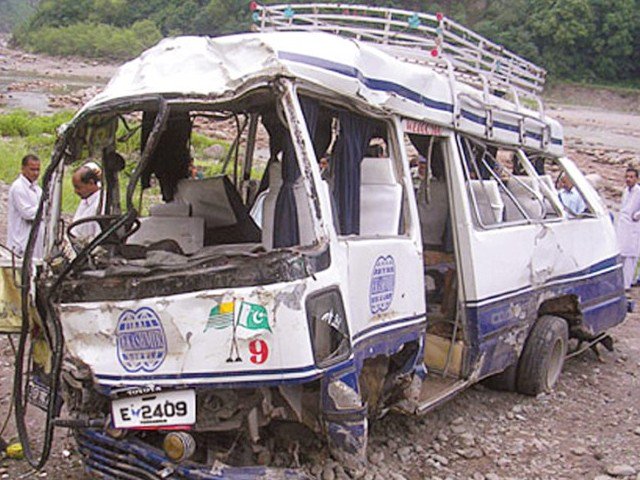 ---
Five members of a family were killed and 14 others injured in a van accident in Mirpur, Azad Jammu and Kashmir (AJK) on Sunday.

The passengers were travelling from Gujranwala to Nakyal sector of Azad Kashmir's Kotli district when their van fell into a ravine in Panjora, Express News reported.

The injured passengers were admitted to the District Headquarters Hospital Mirpur.

Police said the passengers were travelling to Nakyal to attend a funeral.

In September this year, a senior AJK official and seven of his family members were killed when their vehicle fell into a gorge in Nakyal sector.

Road accident in AJK kills two, injures five

Benazir Income Support Programme Director Chaudhry Muhammad Ishaq was on his way with his family in their jeep when they got into an accident and fell into a storm water drain near Mathrani Dhamooi area.

Police said the accident took place because of heavy rain and the strong current in the storm water drain washed the jeep and its occupants away with it.

Rescue teams and locals tried to pull the victims out but could not succeed because of the gushing water.

The bodies were later fished out.

The deceased include Ishaq, two of his brothers and three of nephews.