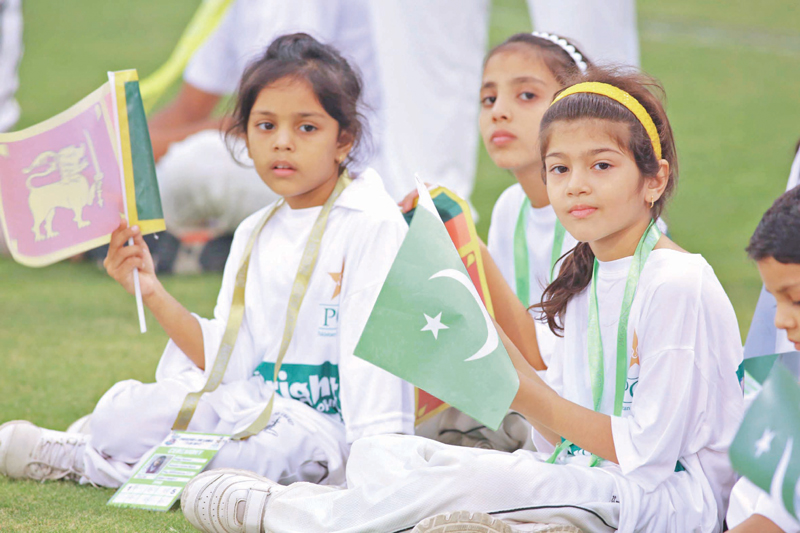 ---
LAHORE: Eager to reach the Gaddafi Stadium, cricket-lover Asad Mughal brought his family and anxiously waited to board a shuttle to the stadium hours before the start of the match on Sunday. A large number of such enthusiastic fans were seen keen to watch an international game while cheers of cricket lovers could be heard kilometres away from the parking area.

Mughal said that the match had ushered in a new era not just for cricket but also for other sports in the country. His two children, however, were more interested in seeing Pakistani players' batting. As the family waited for the bus arranged by the Punjab government, the children looked to vendors offering various services for cricket fans.

Several people took this opportunity to make some extra bucks by offering flags, t-shirts, hats and face painting accessories for sale.

One of the vendors, Rafaqat Ali, was happy. He said such occasions provided good opportunities for earning money. He, however, was not happy about some restrictions. "People like me were restricted to the parking area that was miles away from the stadium. Because of restricted access, the number of my potential customers is limited. Vendors should also have been allowed inside the stadium."

'Thank you Sri Lanka, for trusting us'




He, however, expressed the hope that he would be able to sell his wares in an hour before heading back home to watch the match. "I am a diehard cricket fan," he said smiling.

Just before the match's start, people who were unable to obtain a ticket were glued to their television screens. "Yes, this is the beginning of something special," said veteran cricketer and commentator Rameez Raja on a TV channel ahead of the match. Taj Muhammad, owner of a small grocery shop on Walton Road, hearing Raja's words, quipped: "Yes this marks the dawn of peace in Pakistan."

The cricket mania could also be observed outside the stadium. A large number of families were seen waiting to board shuttles to the stadium. They were directed to make a queue and park their vehicles at least two kilometres away from the stadium, but everyone seemed happy and agreed to be frisked by police. Officers of law-enforcement agencies were seen vigilant in and around the stadium.

"Winning or losing the game is of secondary importance. I think this is a major achievement in itself that the government has managed to organise a match and persuaded a foreign team to play here," commented another fan Ali Murtaza. "International cricket is resuming in our country and the entire world is watching us."

Three hours before the match started, the stadium started looking crowded. "I realise that commuters and pedestrians alike are facing problems," said Muhammad Waqar as almost all main thoroughfares were blocked for general public. "The next match will be held in a healthier environment. We hope we will not need to take such extraordinary security measures."

'Welcome back Sri Lanka'




An ASI of the Lahore police, a resident of Faisal Town, while observing long queues of people said: "People must remain calm, these security measures have been taken to protect our guests."

CM welcomes Lankan team

Punjab Chief Minister Shehbaz Sharif said the visit of Sri Lankan players was a matter of pride for Pakistanis.

"The people of Lahore have maintained their tradition of hospitality by giving a grand welcome to the guest team," he said. The chief minister said that the arrival of foreign players in the country proved that Pakistan was a safe and peaceful country.

Published in The Express Tribune, October 30th, 2017.