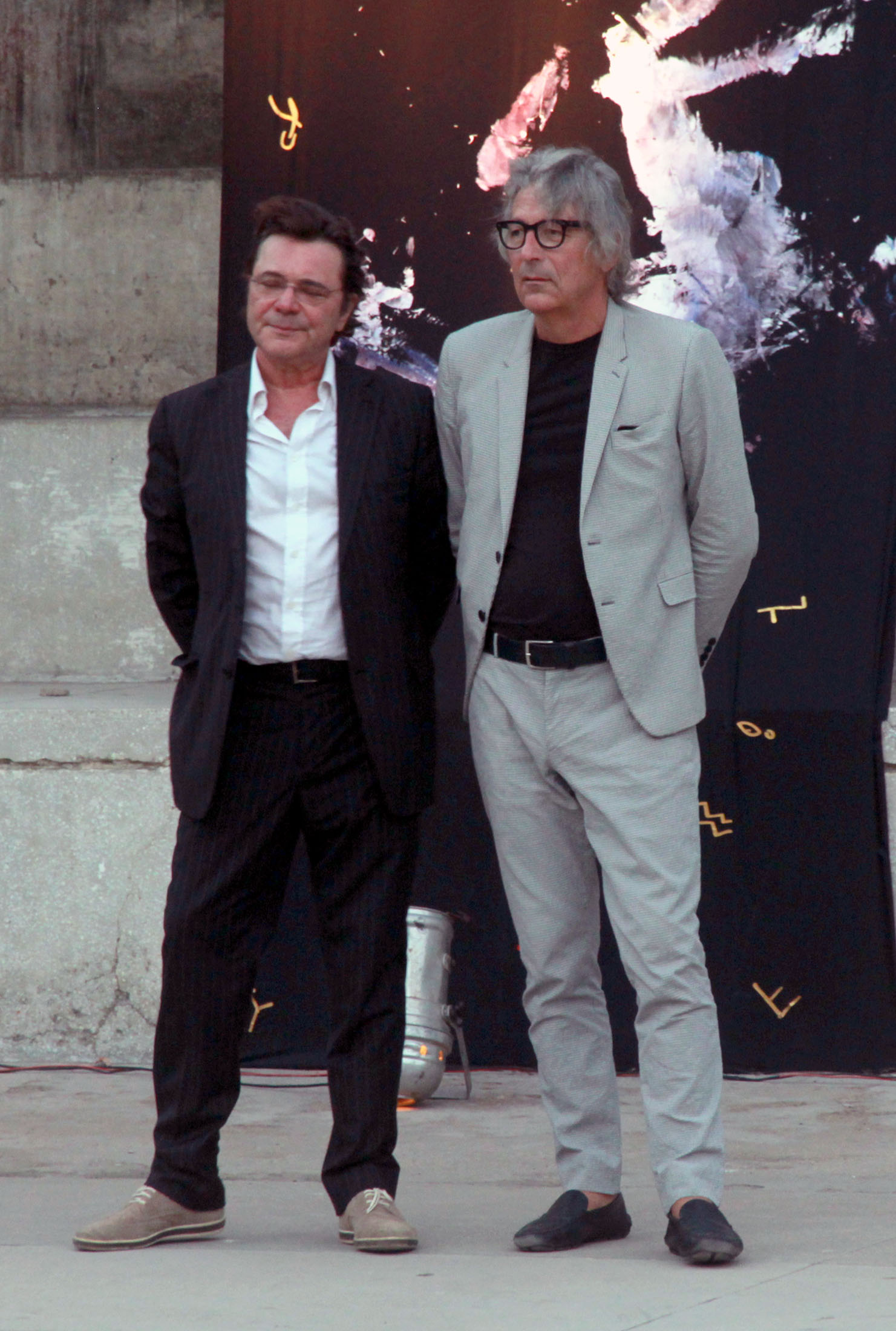 ---
KARACHI: The first Karachi Biennale, curated by Amin Gulgee, has an array of artists participating in it from around the globe, including Italy. The Express Tribune had a chance to sit down with Italian curator Paolo de Grandis, who has been associated with the Venice Biennale, and Marco Nereo Rotelli, an Italian artist who uses unconventional mediums to create his work.

In conversation with Rotelli, The Express Tribune inquired about his formal training as an architect and when he made the switch over to being recognised as an artist. "Oh no, no! I am still an architect in my head; I am just an architect of words instead," he said.

He spoke about his preferred medium, which is an amalgamation of lights, sounds, the selection of space as a canvas, which may be a building or a rock quarry, projections and at the very heart of it all poetry, which he views as the journey of light.

When asked about the process he uses to arrive at his final product, he said, "You have to consider I work with different mediums, for example when my work will use a quarry to display poetry on, I will look for the mundane first, which is the quarry. I will remain there."

Brace yourselves for Pakistan's largest contemporary art event

He went on to elaborate that he spends time with different technicians for lights and sound, painters, sculptors, the space that he will create the artwork in and "with the language, or the poetry". He said it is important to know the lighting in the space or building where the installation will be.

Rotelli said that his aim is to create astonishment, as his work is fleeting and can only be seen first-hand, on the night it is displayed. "I hope to create with my work a second full of time or something that is in between dreams and reality," he concluded.

When inquired about the Bushman Poetry project and the importance of collaborating with artists from less developed areas, he said for him it was more about the language.

"There is form of writing called Rongorongo in the native language of the Easter Islands, Rapa Nui, which has not been deciphered till now.  I am interested in the mystery of language," he said.

He went on to say that despite his use of language as a primary medium, he does not necessarily need to understand the language to create the art, nor does his audience.

Pakistan's biggest art exhibition begins at NJV High School

He spoke about the Art Project, a studio created to bring together artists from different disciplines such as art, poetry, music and theatre. The Express Tribune was informed that although the main studios are based in Milan and Venice, there are no fixed collaborations and "wherever there are artists we will go even if it means putting a light installation in Karachi".

When asked what attracted him to the Biennale in Karachi, Rotelli laughed and said, "Paolo brought me here". He added that he was happy to be in the city. Grandis chimed in saying 'Ciao, Karachi!'

Grandis was asked if art from around the world follows a theme, according to where it has been created and in what era. "I have been fortunate to have known top American and French artists in the 1980s. For the last 20 years I have been in touch with Asian artists and have realised that an artist paints the moment and place he lives in," he said.  "I have known Amin Gulgee for the last 20 years and he is the first reference of Pakistan for me," he added.

Grandis added that no matter where an artist comes from, what he recognises the most about them is their open mind. "I observe everything, the way they talk, the way they listen and even the way they look at you," he said.

Creative exchange: Karachi Biennale 2017 all set to start from October 21

When asked about his selection of space and what contributes to curation apart from the way the artist is viewed, he said "One must remember the audience is the guru. Of course an artist is important but without an audience to view his or her work, they are nothing. So I am interested in getting the audience to the art".

He added that for the Karachi Biennale - carrying the title art beyond the people - he has put together a mixed selection of artists that carry the message of peace. "I have brought Yoko Ono's work, who is presenting an artwork involving me from a long time ago. Michelangelo Pistoletto's work titled Tres Paradise, which is basically a depiction of a dream and of course you already know what Rotelli will do," he elaborated on his selection, adding that the message for not only Pakistan but the world is to keep an open mind.

When asked for his expectations of the Karachi Biennale, he said that his only objective was to bring something other than art to the city. "You know the Venice Biennale is the biggest in the world, showing artists from 110 countries. My aim is to sign some sort of agreement before I leave Pakistan, so that artists from the country can be featured in Venice in 2019," he said, adding that there is also the added charm of the first collaboration or visit, since you do not know what to expect.

Grandis concluded by thanking Italian Consul-General Gianluca Rubagotti for inviting them and Gulgee for hosting them. "I was especially happy to meet students in Pakistan, since they are the future," he added with a smile. "I love Karachi, I love Pakistan."
COMMENTS
Comments are moderated and generally will be posted if they are on-topic and not abusive.
For more information, please see our Comments FAQ