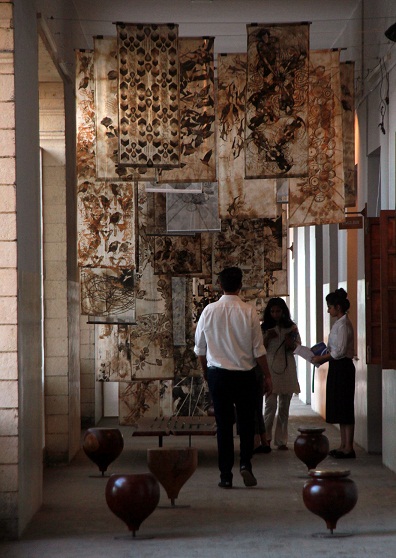 ---
KARACHI: Artists with a vision have always tried to reimagine the world to inspire fresh beginnings and instill a sense of hope, urged Niilofur Farrukh at the inaugural ceremony of Pakistan's first and largest international contemporary art event, the Karachi Biennale 2017 (KB17), on Saturday.

She said that public art practice has begun to reclaim public space lost to intolerance and violence while addressing the audience and artists from Europe, North and South America, Africa, Southeast Asia, the Far East and various parts of Pakistan. "In response to Karachi's recent tumultuous history, there has been an urgency to instrumentalise art," she remarked.

Art exhibition explores country's varying narratives

The event will showcase the work of internationally renowned artists such as Yoko Ono, Shazia Sikandar, Richard Humann, Michelangelo Pistoletto, Orlan, Bani Abedi, Meher Afroz, Miro Craemer and Ruby Chisthi among others.

According to Farrukh, KB17 invites the people and artists to imagine a world beyond 'post-normal times' through a temporary museum for two weeks. "The exhibition acts as a temporary museum of testimonies from over 140 artists from more than 30 countries bringing a new experience to the people," she said, adding that hopefully art can enjoy the same status as poetry in this part of the world.

Contemporary artists use art to show exuberance

Chief curator for KB17 Amin Gulgee, while addressing the audience, welcomed all the artists to his 'maddening city' and revealed that the theme of this year's exhibition is 'Gawahi' or 'Witness'.
He said that despite continuous bloodshed, violence and crime, the metropolis has resiliently grown and thrived. "It's also true in the scene of arts. Karachi today has an active commercial gallery scene," Gulgee added. "It is the hub of contemporary art."

According to him, it is imperative to establish a large-scale art event that engages both local and international audience in Pakistan's largest city. We will have museums of contemporary and modern arts as the event would create awareness among people, he said.

Art exhibition: Life of Buddha goes on display

The Biennale will be open to the public from today (Sunday) to November 5 at Narayan Jagannath Vaidya High School on MA Jinnah Road among other locations.
COMMENTS
Comments are moderated and generally will be posted if they are on-topic and not abusive.
For more information, please see our Comments FAQ