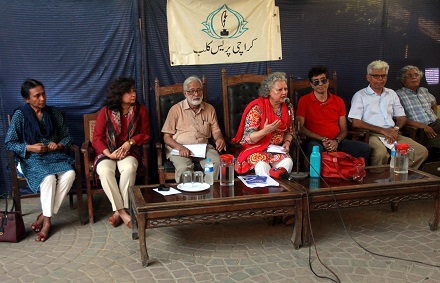 ---
KARACHI: The first Karachi Biennale, 2017 (KB17) is all set to start on October 22 and will continue till November 5. This was announced by the the Karachi Biennale Trust (KBT) at a press conference held on Wednesday at the Karachi Press Club.

KB17, a two-week-long event, consists of exhibitions at 12 venues that have been designed to bring art into public space and connect it with the city and its people.

The press conference was addressed by KBT Chief Executive Officer Niilofur Farrukh, journalist Ghazi Salahuddin, Orangi Pilot Project Director and writer Aquila Ismail, chief curator and KBT patron Amin Gulgee and Karamat Ali of the Pakistan Institute of Labour Education and Research.

Farrukh said that biennales are held in over 100 countries across the world. Art biennales have played an important role in transforming the perception of cities and it is hoped that by organising this inclusive cultural activity in Karachi, KB17 will foreground the city's vibrant art scene, Farrukh said.

Creative exchange: Karachi Biennale 2017 all set to start from October 21

She explained that KB17 will be Pakistan's largest contemporary art event, showcasing 140 national and international artists at 12 venues across the city.

Local audiences will experience art from other countries and understand its vital link to life, like literature and music, she added.
She said that the Karachi Biennale has been supported by the JS Group as its lead partner. From the beginning, the JS Group has understood KBT's vision to hold this special art event that will put Karachi on the global art map.

Mentioning the global importance and coverage of the event, Gulgee said that biennale is Pakistan's largest international contemporary art event that brings together innovation, excellence and criticality through a multiplicity of curatorial strategies that will strengthen a global art exchange. He added that it will showcase art from over 30 countries that corresponds with the KB17 theme, 'Witness'.

The works of internationally renowned artists like Yoko Ono, Shahzia Sikander, Richard Humann, Michelangelo Pistoletto, Orlan, Bani Abedi, Meher Afroz, Miro Craemer, Bankleer and Ruby Chishti, among others, will be on display for a large audience, Gulgee said.

Engaging people through art: Karachi's first biennale to take place in October this year

"I requested international artists to come and see my crazy city, Karachi, and fortunately, they all agreed," he said.

Public programmes for visitors will include educational art activities for school and college students and tours that introduce general visitors to the works on display.

Farrukh said that the art exhibitions will take place at 12 venues from Karachi School of Art, the city's longest running art school, to Frere Hall, the city's first Town Hall. It has five venues located on MA Jinnah Road, which was once the cultural core of the city.

A series of conversations and lectures will feature Meher Afroz, Savita Apte, Saquib Hanif, Dr Marcella Sirhandi, Paolo De Grandis, Carlos Aceros Ruiz, Adriana Almada and Dannys Montes de Oca Moreda.
These will be held at the ZVMG Rangoonwala Community Centre and the State Bank auditoriums.

JS Group sponsors Karachi Biennale 2017

Public events, such as poetry and book readings by writers and poets like Nurul Huma Shah, Shakil Jafri, Natasha Japanwala, Kashif Raza and Spoken Stage, are also a part of the programme.

Frere Hall will be the venue for the display of work by Jamal Shah, titled, 'Situation 101', a sound and light Installation by Wolfgang Spahn, titled, 'Entropie', and Dholi Taro (Drum Circle).

On the weekend, activities for families will take place at Frere Hall, NJV School on MA Jinnah Road and ZVMG Community Centre in Dhoraji Society. Parents and children can be a part of art activities like 'Chaos Theory' and 'Ma Kay Hath Ka Khana', Farrukh added.
Salahuddin shared that Karachi used to be the hub of art where art work was exhibited in public places.

He said that such an event will help reoccupying public spaces of the city.

Resilient women of Pakistan discussed at first roundtable of Karachi Biennale

The biennale offers two art prizes to participating artists - KB17 Mahvash and Jehangir Siddiqui Foundation Juried Art Prize that will be awarded to an artist whose work is selected as the most outstanding by a jury of prominent art professionals and the KB17 Shahneela and Farhan Faruqi Popular Choice Art Prize that will be selected by visitors through a secret ballot.

Every venue will have ballot boxes where visitors over 18 years of age can vote for their favourite work of art.

All exhibitions and programmes will be open for public and there will be no entrance fee.
COMMENTS
Comments are moderated and generally will be posted if they are on-topic and not abusive.
For more information, please see our Comments FAQ