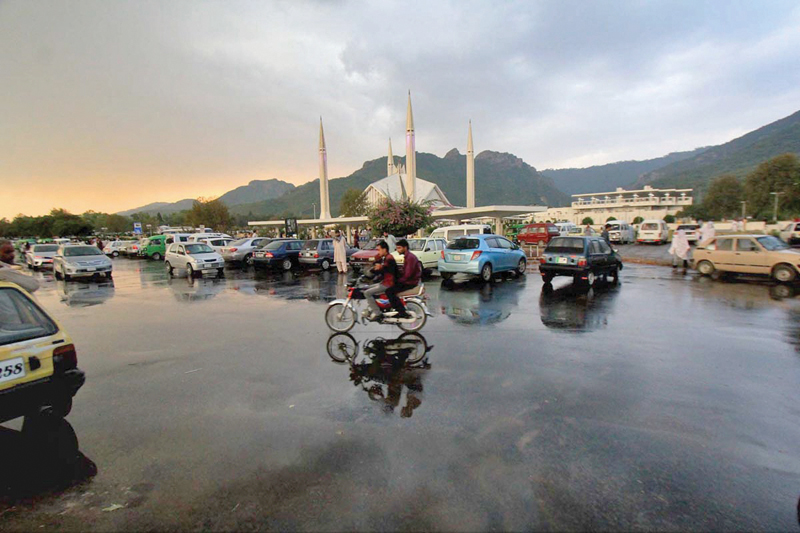 ---
ISLAMABAD: After a long dry and hot spell, the twin cities of Islamabad and Rawalpindi received first of the autumn showers on Sunday.

The light rain along with gusty winds, which began in the afternoon, turned the weather in Islamabad and Rawalpindi slightly colder on Sunday evening with the temperature falling to the low 20s.

The Pakistan Meteorological Department (PMD) said that a continental wave was prevailing over most parts of the country. However, a recent shallow westerly wave was affecting northern parts of the country which had resulted in the rain.

10 dead as heavy rain piles misery on Karachiites

The Met department forecast that Islamabad and Rawalpindi could receive additional showers with thunderstorm and gusty winds at isolated places in Malakand, Hazara, upper Federally Administered Tribal Areas, Kashmir and Gilgit-Baltistan over the next 24 hours. However, the PMD expects the weather to remain hot and dry in the plain areas of the country.

During the long dry spell, surface, as well as groundwater levels in rivers, nullahs, natural streams and springs, had dropped to disturbing levels. A number of natural streams and springs had dried up particularly in the Potohar and Kashmir region, areas mainly fed by rains.

"Though rain cannot bring back natural springs, which have dried up due to the prolonged dry spell resulting in the shortage of water in many rain-fed areas including Rawalpindi and Islamabad, it [rain] will help settle dust particles suspended in the air which was causing a host of diseases," a PMD official told The Express Tribune on the condition of anonymity.

Raja Tariq from Kahuta said that natural springs and deep wells were the main sources of drinking water in Kahuta, Kotli Sattiayn, Murree and in other areas of the Potohar region, and most of these had dried up due to few rains this year.

"This [Sunday's] rain is nothing less than a blessing for residents of the twin cities as it would help to bring down dust particles," said a resident of Rawalpindi, Zahid Satti. Noting that he was a regular jogger, he felt it hard to breathe, even early in the morning due to the dust in the air.

Rain brings temperature down in Islamabad

Chaudhary Mahrban from Kallar Syedan in Rawalpindi Division said that even though the sowing season for wheat was still going strong, the long dry season had made it hard for farmers to cultivate seasonal vegetables owing to shortage of water, causing prices of vegetables to inflate.

Moreover, Ministry of Climate Deputy Director Media and Communication Saleem Shaikh said that Pakistan was among those countries who were worst affected by climate change. He said that frequency of climate change induced events including droughts, un-pattern rains, floods were increasing and due to such climate change effects country was losing billions of rupees annually.

Published in The Express Tribune, October 23rd, 2017.
COMMENTS
Comments are moderated and generally will be posted if they are on-topic and not abusive.
For more information, please see our Comments FAQ