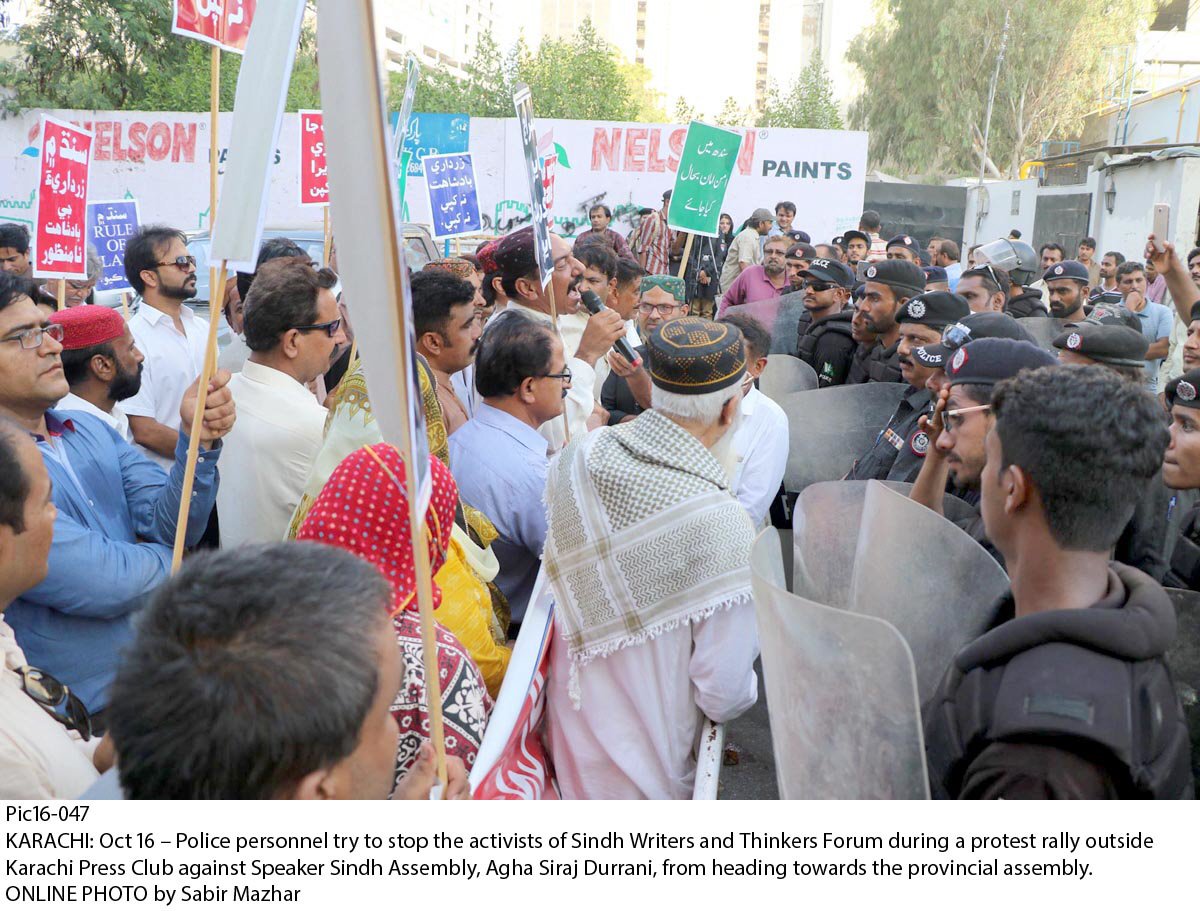 ---
KARACHI: A large number of Sindhi writers took to the streets of Karachi on Monday demanding the disqualification of Sindh Assembly Speaker Agha Siraj Durrani for his 'derogatory' remarks against voting.

In a video clip which has gone viral on social media, he exchanged heated arguments with people in his constituency and made remarks that many considered 'insulting' about voting. "I don't believe in importance of votes," he was heard saying in the video.

Soon after his remarks, people from different walks of life banded together to criticise Durrani. They demanded the Pakistan Peoples Party (PPP) leadership take action against him.

The Sindh Writers and Thinkers Forum, a group of writers and intellectuals, gathered in front of the Karachi Press Club and, while carrying placards and banners inscribed with slogans against Durrani, said that he must be removed from the post of speaker of the provincial assembly. One of the placards read 'Sack Durrani and Save Democracy'.

50 MPAs have not spoken a word in Sindh Assembly in three years

"Durrani has not only insulted the voters of his constituency, but has also hurt the sentiments of all people living in Sindh. We request his party leadership to take action against him," said Manzoor Solangi, a Sindhi writer.

After a protest that continued for an hour and a half, the participants attempted to march towards the Sindh Assembly building. They were, however, forced to stop due to police intervention in front of Governor House.

Pakistan Tehreek-e-Insaf district Dadu president Gul Mohammad Rind has written to the Election Commission of Pakistan to disqualify the speaker of the Sindh Assembly. Talking to the media outside the provincial election commission, he said, "The speaker is not sagacious or righteous, so he has no right to be a member of the Sindh Assembly and chair the session." He added that he, along with other party leaders, will also file a petition in the Sindh High Court seeking disqualification of the speaker. "This shows the mentality of PPP leaders who consider people their slaves and don't give importance to voting," said Rind, adding that the people of Sindh should now stand up and get rid of the party.
COMMENTS
Comments are moderated and generally will be posted if they are on-topic and not abusive.
For more information, please see our Comments FAQ