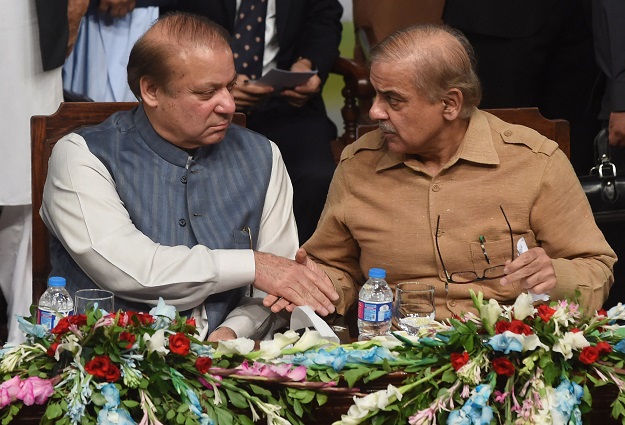 ---
KARACHI: In case Nawaz Sharif and his daughter Maryam Nawaz are convicted in the ongoing corruption cases, Shehbaz Sharif will be Pakistan Muslim League Nawaz (PML-N) candidate for premiership while his son Hamza Shehbaz will be vying for the post of Punjab chief minister, The Express Tribune has learnt.

However, if Maryam is acquitted, she can be next in the political line after Nawaz, said sources privy to a meeting Nawaz held with party members.

The meeting was aimed at devising a strategy to ensure that the Sharif family remains politically active, despite the current political scenario and the corruption cases against him and his family.

Post-Panamagate verdict: PM says PML-N proved doomsayers wrong

According to the sources, the meeting decided that if Nawaz or Maryam are unable to take part in the elections owing to any convictions over the accountability references, Kulsoom Nawaz, Shehbaz and Hamza will be at the helms of affairs. Kulsoom and Shehbaz will be heading affairs in the National Assembly while Hamza will be in the lead role in the Punjab Assembly.

Besides, Shehbaz will also be the PML-N candidate for premiership while Hamza will be running for the Punjab CM seat, said the sources.

If Hasan, Hussain, Maryam and her husband Captain (retd) Safdar are also convicted, Kulsoom will be handed important responsibilities associated with the PML-N, keeping her health in mind, alongside being awarded a party ticket for the NA-120 constituency.

However, if Maryam is acquitted, she can be next in the political line after Nawaz.

Meanwhile, Nawaz, if given bail, hopes to run a mass contact campaign in Pakistan while also organising political gatherings. These policies will be further streamlined in the light of the political atmosphere and the court's verdict.

On warpath: PML-N inviting martial law, says Imran

The Express Tribune further learned that Nawaz also held detailed discussions with his legal team, pertaining to the cases against him and general party policy.

The sources also revealed that the party helped Nawaz and Shehbaz clear misunderstandings between them. Reportedly, Nawaz was not paying any heed to the advice Shehbaz offered, creating a rift between the brothers. However, it has now been decided that all matters pertaining to the party will be decided mutually.

Shehbaz was said to have told Nawaz that the future of the party should be decided in consultation with experienced, senior party leaders, instead of depending on those with lesser experience.

Meanwhile, Chaudhry Nisar Khan also advised Nawaz against clashing with the institutions and focusing on a mass contact campaign. Nawaz has taken both the advices seriously while also notifying them both that the organisational set-up of the party would be changed soon.
COMMENTS (2)
Comments are moderated and generally will be posted if they are on-topic and not abusive.
For more information, please see our Comments FAQ