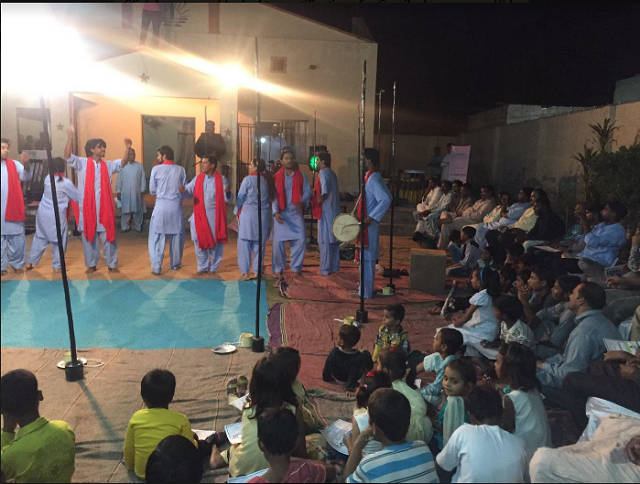 ---
SAHIWAL: Justice Project Pakistan in collaboration with Azad Theatre and Highlight Arts, staged Intezaar, a play to highlight the plight of death penalties in Pakistan at Sahiwal Church as part of its Bus Kar Do campaign on Wednesday.

This was the first edition of the five-city bus tour as part of public advocacy efforts to bring back the moratorium on the death penalty for World Day Against the Death Penalty observed globally on October 10.

'Schizophrenic' killer's wife wants quick SC review

Bus Kar Do seeks to highlight how Pakistan's death penalty disproportionately and systematically targets its poorest and most vulnerable citizens. This is in line with this year's global theme of "poverty and injustice" that World Day Against the Death Penalty will follow.

By staging performances and conducting additional activities to engage local communities, JPP seeks to educate Pakistanis about the plight of the most vulnerable prisoners on death row, their journey through the criminal justice system and how many are denied proper legal representation and basic fair trial protections in the criminal justice system that is rife with corruption and beholden to power.

After the play concluded, JPP set up a space to better acquaint the audience with the country's legal infrastructure and the fundamental rights of prisoners under the Constitution.

The audience spoke with former prisoners, participated in a selfie booth and installations. Children were provided colouring pages to design their own version of the bus, and nearly 50 people wrote postcards to President Mamnoon Hussain – asking for clemency for Abdul Basit – a paralyzed prisoner who has been on death row for the past 10 years and twice came within seconds of being executed in 2015, before eventually being granted temporary relief.

Intezaar was originally developed with our creative partners Ajoka Theatre Pakistan and Complicite Creative Learning.

SHC asks federal government for details on $70m pledged for Let Girls Learn project

Head of Communications, Rimmel Mohydin said, "The visual depiction of the very real consequences of our justice system is designed to show the audience what it really means to support the death penalty in Pakistan. Bus Kar Do is an attempt to bring more nuance into the way we view some of Pakistan's most demonised, yet most vulnerable citizens. We are very excited with the response and look forward to taking Intezar to more cities in Pakistan."

Justice Project Pakistan (JPP) is a human rights organisation that provides pro bono legal representation to the most vulnerable Pakistani prisoners facing the harshest punishments.

Bus Kar Do heads to Multan on October 5.
COMMENTS
Comments are moderated and generally will be posted if they are on-topic and not abusive.
For more information, please see our Comments FAQ