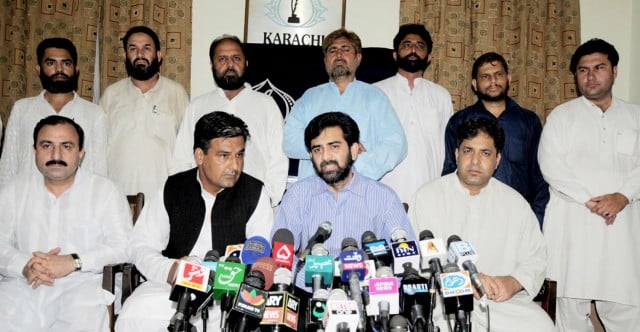 ---
KARACHI: Shahi Syed's views reflect those of the federal government, which is why he should be removed from the position the Sindh chapter's president of the Awami National Party (ANP), the Muttahida Qaumi Movement (MQM) demanded on Friday.

Syed holds the governor of Sindh responsible for the recent target killings and his sentiments reflect "his own dirty thoughts", said MQM Rabita Committee and coordination committee member Hammad Siddiqi at the Karachi Press Club. "We have repeatedly said that the MQM is not party to any dispute in the city.

We have been unnecessarily targeted by the government for our alleged involvement in the rift between the ANP and the Hazarewal over the demand for separate provinces," said Siddiqi, who was of the belief that this was "a conspiracy to sabotage MQM's mandate as the largest vote holder in the city". MQM representatives also claimed that Syed had gained popularity primarily during the last general elections, whereas before that, he was nothing but the "chief of the land-grabbing mafia".

"A person who owns a few gas stations and [has interests in] the transport business cannot become this powerful in such little time," they said, adding that, "Syed is involved in many objectionable activities in Karachi." They demanded that the government and ANP chief Asfandyar Wali Khan take serious notice of the law and order situation across the city as it has worsened since Syed's presidency over the ANP's Sindh chapter.

The media has portrayed that the Pakhtuns were the only ones who were killed in the recent attack whereas six Hazarewals and a number of Urdu-speaking people were also targeted," the representatives claimed. "The Pakhtuns in Karachi have always supported the MQM," said Siddiqi. "We will therefore be the first ones to step forward for peace and democracy."

Published in the Express Tribune, May 22nd, 2010.