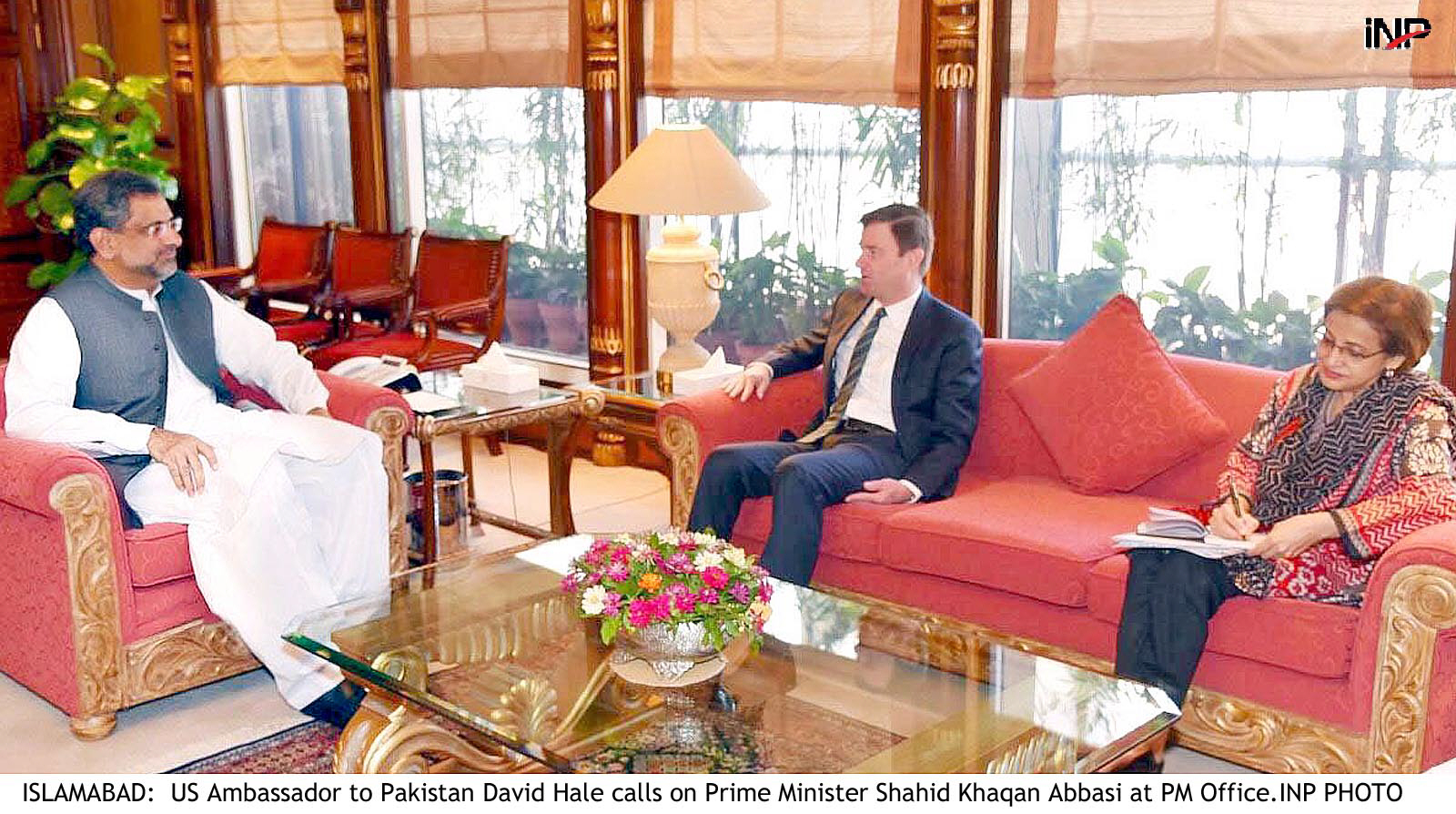 ---
ISLAMABAD: Prime Minister Shahid Khaqan Abbasi on Friday underscored the need for continued engagement between the United States and Pakistan to pursue 'common objectives'. He said this during a meeting with US Ambassador David Hale, who called on him at the Prime Minister Office.

The meeting was seen as significant as it came against the backdrop of strain in ties between the two countries following unveiling of America's new strategy for Afghanistan and South Asia.

"The prime minister emphasises the importance of engagement to pursue common objectives and other issues of mutual interest," according to an official handout issued by his office. "It is agreed that the decades-long relations between Pakistan and the US should be further strengthened through multifaceted engagement."

US seeks to placate Pakistan anger over Trump's diatribe

The fragile cooperation between Pakistan and the US has been under the scanner since last month when President Donald Trump announced a new strategy for Afghanistan and South Asia.

In his policy speech, Trump, while laying emphasise on the use of force to break the stalemate, accused Pakistan of supporting and harbouring the Afghan Taliban and the Haqqani Network. He warned that Pakistan would have to change that approach or face the consequences.

Islamabad sharply reacted to the new Trump strategy and rejected the allegations of 'double play' in the fight against terrorism.

Pakistan also mounted a diplomatic offensive to take regional countries on board over Afghanistan in order to offset the possible negative fallout of Trump's new plan.

After Trump's criticism on Pakistan, US envoy meets Khawaja Asif

Meanwhile, Afghan Ambassador to Pakistan Dr Omar Zakhilwal also held a separate meeting with Premier Abbasi, suggesting that efforts were on to sort out differences on the Afghan endgame through diplomatic channels.

During the meeting, the prime minister highlighted Pakistan's commitment for peace and stability in the region, Afghanistan in particular.

The prime minister reiterated Pakistan's support for an Afghan-led and Afghan-owned reconciliation process.

Ambassador Zakhilwal conveyed the commitment of the Afghan government to work for furthering bilateral relations between the two countries that have significant historical, cultural, economic and political linkages.