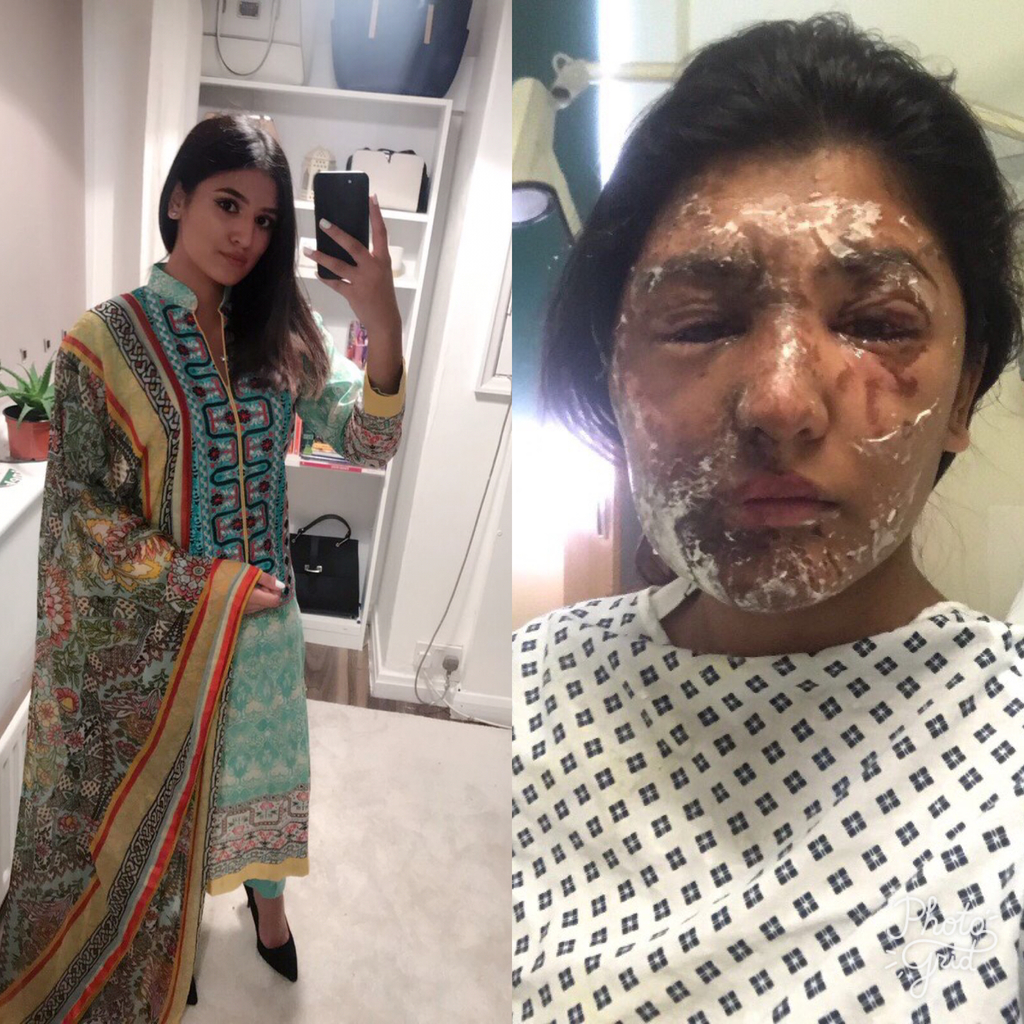 ---
A Muslim aspiring model Resham Khan and her cousin Jameel Mukhtar were attacked with acid in a parked car on the eve of the model's 21st birthday in June. The incident made headlines over the world, and the model was left with "life-changing" injuries.

However, two months later, the model took to Twitter and shared latest pictures after going through a harrowing ordeal of coping with her injuries.

Resham shared her pictures on Eid, and there are no visible signs of facial injuries as opposed to her previous pictures which surfaced after the attack.


Nazar na lagey - 02/09/17 pic.twitter.com/F2Inu07kwH

— Resh (@reshposts) September 2, 2017


The brave 21-year-old student had been documenting her recovery on social media and her blog and posted a picture of her face after months of painful recovery. In July, she mentioned how she was even afraid to walk to a local shop.

Muslim aspiring model severely injured in London acid attack on her 21st birthday

"Today  I was too petrified to walk to my local shop. Too scared to face the world. Too scared of the looks I might get. To scared to tackle the question "how are you". Just too scared. That's all I've been. Terrified and reluctant. My life on pause, frozen with fear," she wrote on her blog.

It also seems as if the model has gained back her lost confidence and is now moving on. She tweeted, "When you're raring to go on a night out but the taxi man has smooth radio on. Kills my vibe everytime."

The world has responded to Resham's recovery with the most heart-warming wishes.


You look great, definitely, but I think it's also wonderful you are so confident and adjusting. Some people might've withdrawn completely.

— Danielle (@daniellegee) September 4, 2017
Everyone knows I'm a sappy sod but @ReshKay_'s Eid pics have honestly made me well up with happy tears.

— MJ (@brayfordbird) September 4, 2017
delighted to see your recovery, stay strong!

— Lermontov5 (@ashcroft_craig) September 4, 2017


https://twitter.com/Emma_Hiley/status/904789174603087874


Dear Resh, sending you all my support from Chile. So brave and muchas gracias for sharing your story. Yes, acid attack need to stop, NOW!

— spanishforfun (@spanishforfun) September 4, 2017
Hope you are feeling as good as you look. Best wishes from an old white guy :-)

— Naturista (@chalkpithouse) September 4, 2017


John Tomlin, 25, was charged with the grievous bodily harm with intent of Resham Khan her cousin Jameel Muhktar, 37, who was severely injured after the attack.

Acid attack victim finds love

Mukhtar was in a coma following the attack, and Resham was given a skin graft. Even though Mukhtar is awake now, he still suffers from severe injuries. A provisional date for Tomlin's trial has been set for November 27. He will next appear at Snaresbrook Crown Court on September 19.


COMMENTS (4)
Comments are moderated and generally will be posted if they are on-topic and not abusive.
For more information, please see our Comments FAQ