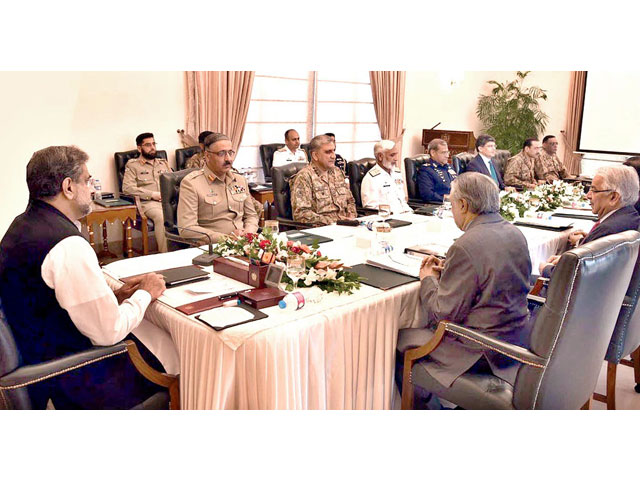 ---
ISLAMABAD: Prime Minister Shahid Khaqan Abbasi will meet with the top military leadership on Thursday to formulate a response to the new US policy on Afghanistan, that includes greater pressure on Islamabad to do more to rein in militants.

President Donald Trump has chastised Pakistan for harboring "agents of chaos" and providing safe havens to militant groups waging an insurgency against a US-backed government in Kabul, saying Islamabad must promptly change tack.

White House officials have gone further and threatened aid and military cuts, as well as other measures to force Pakistan's hand and force them to help bring about an end to the 16-year-war.

White, PM Shahid has yet to respond to Trump's remarks, Foreign Minister Khawaja Asif said Washington should not use Pakistan as a 'scapegoat' for its failures in America's longest running war. Pakistan denies harbouring militants.

In dealing with Trump, Pakistan plays its trump card

As is often the case with Pakistan, the final decision about how to proceed rests with the military, which has ruled the country for nearly half its 70-year history. It calls the shots on key parts of the country's foreign policy, including ties with the United States, Afghanistan and arch-foe India.

Army chief General Qamar Javed Bajwa, who will be part of the National Security Council (NSC) meeting on Thursday, a day earlier met with US Ambassador David Hale and said Islamabad wanted trust and understanding rather than US aid money.

Government officials bristle at what they say is a lack of respect by Washington for the country's sacrifices in the war against militancy and its successes against groups like al Qaeda, Islamic State (IS) or the Pakistani Taliban.

According to official estimates, there have been 70,000 casualties in militant attacks since it joined the US "war on terrorism" after the September 11, 2001, attacks on the United States. "We feel the American administration led by Trump has been totally one sided, unfair to Pakistan and does not appreciate or recognise that Pakistan has been a pivotal player... in the campaign against terrorism," Senator Mushahid Hussain, chairman of the Senate defense committee, told Reuters on Thursday.

China defends Pakistan after Trump criticism

Officials have also been angered by Trump imploring old rival India to play a greater role in reconstructing Afghanistan, warning a greater Indian role in Kabul could be a threat to regional peace. Islamabad fears New Delhi's greater influence in Afghanistan would leave it sandwiched by India.

Analysts have also warned putting greater pressure on Pakistan risks driving Islamabad deeper into the arms of China, which is investing nearly $60 billion in infrastructure projects as part of its Belt and Road initiative.

China's top diplomat, Yang Jiechi, told US Secretary of State Rex Tillerson in a phone call that the United States must value Pakistan's role in Afghanistan and respect its security concerns, according to Chinese state media.

"Things have changed since 9/11," added Hussain. "The US today has far more diminished clout and leverage in the region and we have far more strategic space and options in our foreign policy."

Politicians react to Trump's remarks against Pakistan over Afghan policy

The relationship between the two countries has endured periods of extreme strain in recent years, especially after al Qaeda leader Osama bin Laden was found and killed by US special forces in Pakistan in a 2011 raid.
COMMENTS (5)
Comments are moderated and generally will be posted if they are on-topic and not abusive.
For more information, please see our Comments FAQ