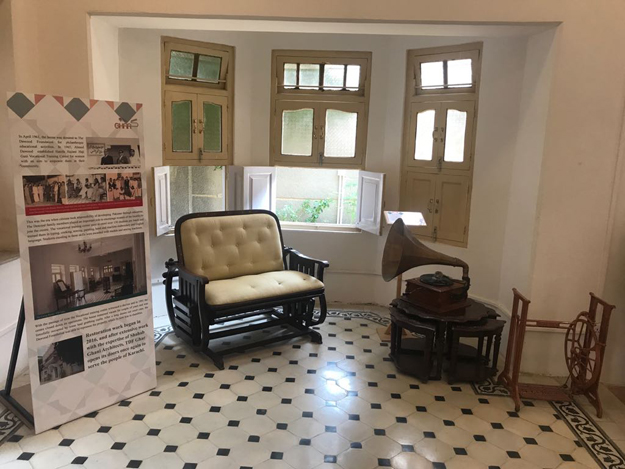 ---
KARACHI: Aiming to promote learning spaces in Karachi, The Dawood Foundation (TDF) recently opened the gates of a restored house on MA Jinnah Road that was built in 1930. Now converted into a public space, the building, named 'TDF Ghar', provides antique surroundings with archaic paraphernalia to the visitors who come to socialise and share ideas.

Painted in yellow, the heritage house is situated on main MA Jinnah Road and was opened for the public on August 22. A café at the building will start functioning from today (Thursday).

History

TDF Ghar is located in the first dedicated cooperative residential complex for middle class in Karachi- Jamshed Quarters, once home to multiple ethnicities like Muslims, Hindus, Christians Parsis and Jews. The area was developed by Jamshed Nusserwanjee in 1922.

Pakistan Chowk Community Center opens doors to public

The house was initially owned by a Hindu woman, Haribai Motiram. In June 1948, she sold it to another woman, Hanifabai Haji Gani, who acquired it so that her daughter, Aisha Bai Dawood, could reside there. Later, the house was deserted until it was recently renovated by TDF.




A public space

TDF Ghar has retained the heritage architectural features of the house to preserve the living style of the past residents of the cosmopolitan city. The main attraction of TDF Ghar is 'The Living Room' museum where antiques and collectables, such as gramophones, a radio, telephone, typewriter and lamps, from as early as 1930s, are preserved and showcased.

Restored with vintage fixtures such as an Anglo-Indian vanity dressing table and show pieces, 'The Living Room' also enchants visitors with old handmade tile work.

The infrastructure, furniture, and decoration at the museum harmonise with one another, creating an ambience which takes one back to the lifestyle of people living in such houses before Independence.




While entry to some portions of the building is free of charge, there is a charge of Rs50 per person to visit 'The Living Room', which remains open between 10am and 6pm.

The Place: A highly-rated recreational hub for Karachiites

TDF Ghar also offers a scenic view of Quaid-e-Azam Muhammad Ali Jinnah's mausoleum from its rooftop where one can sit, relax and enjoy the view.

Moreover, three 'Numaish Halls' and a training room can be utilised at the recently-renovated house for organising workshops, trainings, seminars, exhibitions and other activities.




The vision

"TDF Ghar represents the ideology of peace, harmony and equality in rights for everyone - the ideology that was followed by the founders of modern Karachi," said TDF Chief Executive Officer Sabrina Dawood, expressing the vision behind TDF Ghar.

Tent city planned in Nagarparkar

She added that the house will welcome everyone to share their culture with others and talk about education, arts, science and history.

"This place was previously deserted and non-utilised. Watching it get transformed into a public space is the biggest source of pride for me. It is truly a testament to the transformative power of art and legacy in our society," she told The Express Tribune.