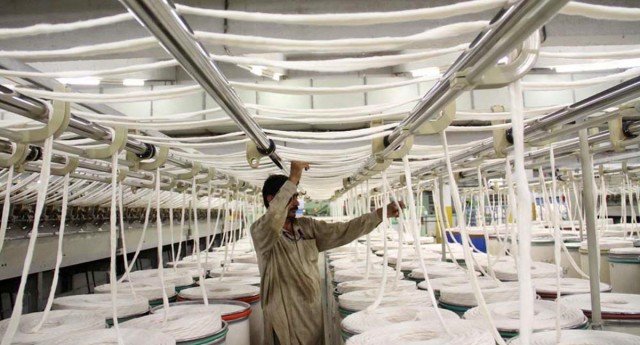 ---
KARACHI: Yarn exports have been at a standstill for the last 10 days after the imposition of 15 per cent regulatory duty on exports, said Anwar Ahmed Tata, Chairman All Pakistan Textile Mills Association (Aptma).

Tata, whose association had protested and closed mills on Tuesday and Wednesday this week against the duty, said: "Not a single yarn container has been shipped over the last 10 days as exporters now need to pay an additional Rs0.5-1 million on each container due to the levy of 15 per cent duty." Aptma and the value added textile sector representatives will meet Prime Minister Yousaf Raza Gilani and officials of the textile ministry on Friday to resolve the issue.

Aptma representatives had met officials of the textile ministry on Wednesday. But the meeting remained inconclusive as Aptma demanded removal of the duty. "We are taking all possible steps to resolve this crisis, but in the end all depends on the government to decide what is in the national interest," Tata said, adding "if the yarn industry collapses, the value added industry too will meet the same fate." "Yarn exports have come to zero after the duty was slapped last week.

If the government has decided to bring down the billion-dollar yarn industry, what can we do?" he asked. Aptma Punjab Chairman Gohar Ejaz said: "We are engaged in a dialogue with the government and we want to resolve the yarn duty issue immediately." "We don't want to destabilise the economy. We are on roads for the first time because we are really concerned over our fate. Otherwise what was the rationale behind our protests across the country," Ejaz said, when asked why not both the stakeholders resolve the matter through negotiations. "Nobody will like to protest and close mills. Whatever is going on is not in the interest of Pakistan," he added.

Pakistan Apparel Forum Chairman Jawed Bilwani said: "Nothing will happen in the meeting of Aptma and textile ministry. The Standing Committee of Finance has given the verdict in our favour."

Published in the Express Tribune, May 21st, 2010.
COMMENTS
Comments are moderated and generally will be posted if they are on-topic and not abusive.
For more information, please see our Comments FAQ