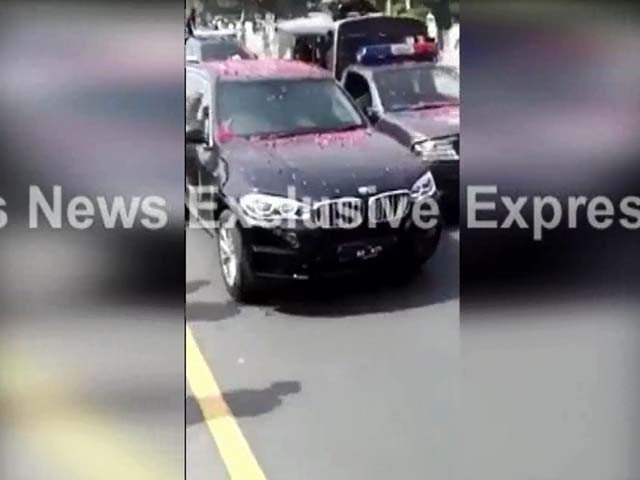 ---
The vehicle which ran over a 12-year-old boy at the Lahore-bound rally of deposed prime minister Nawaz Sharif has been identified with the help of footage available with Express News.

It shows a black BMW - plate number 875 - hitting the boy and not even stopping once. The driver, wearing a white shalwar kameez, can also be identified with the help of the video.

The vehicle which was part of the Pakistan Muslim League-Nawaz (PML-N) 'homecoming' rally on August 10.

The child, Hamid, was a resident of Lala Musa, Gujarat. The father of the child fainted as soon as he saw his son's body lying on the road, Express News reported. According to eyewitnesses, Hamid was standing near the roadside when the vehicle hit him.

Boy crushed to death by Elite Force vehicle in Nawaz Sharif's convoy

DPO Gujrat Sohail Zafar Chatta said a case has already been registered, however, nobody had been arrested thus far.

SP Maaz who is looking into the case said that although the car has been identified, due to a few complications no action could be taken.

He said the police had asked the security officer of the former PM to make the driver appear before the police.

Nawaz and his brother Shehbaz Sharif termed the boy as the "first martyr" of the homecoming caravan. None of the leaders of the PML-N attended funeral prayers for the boy that were offered on Saturday.
COMMENTS (5)
Comments are moderated and generally will be posted if they are on-topic and not abusive.
For more information, please see our Comments FAQ