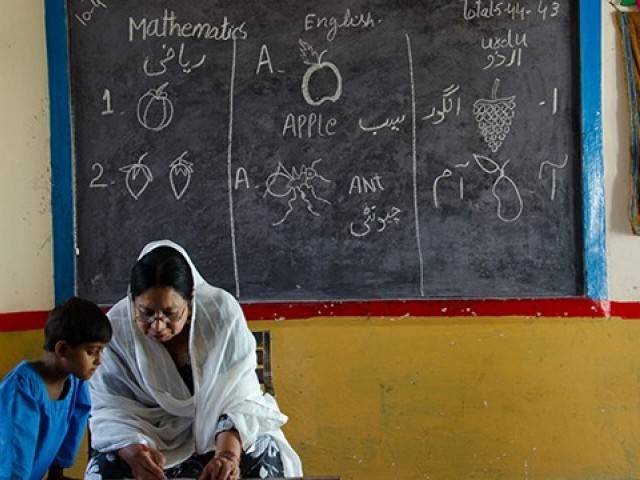 ---
ISLAMABAD: The government teachers working in the federal capital have expressed dismay over a summary moved by the Establishment Division opposing revision of their service structures, as laid out in the 4-tier promotion formula

The division had opposed revising service structure for teachers, stating that teachers have lesser working hours and enjoy two-month summer vacations as well. Teachers have refuted the claim made by the division, and said they continue to carry out administrative and academics tasks even during vacations.




The teachers had demanded revision of 4-tier promotion structure on the pattern of other provinces.

The federal and provincial governments had adopted a promotion formula for teachers in 1991, also known as 4-tier service structure. Under the formula, 1% of the total strength of teachers will be in grade 20, around 15% in grade 19, at least 34 % in grade 18 and almost 50% of the total strength will be in grade 17.

In view of the teachers' demand, this promotion formula was later altered by provincial governments of Khyber-Pakhtunkhwa and Punjab.

In 2012, the K-P government revised the 4-tier promotion formula changed the ratios from 1:15:34:50 to 5:20:37:38. According to the revised formula, if there were 100 teachers, five professors should be in BPS-20, at least 20 associate professors should be in grade BPS-19, around 37 assistant professors should be in BPS-18, and almost 38 lecturers should be in BPS-17. Likewise, the Punjab government also revised the ratios from 1:15:34:50 to 3:19:36:42.




But, the promotional structure for federal capital teachers' could not be amended as yet.

The issue pertaining to the revision of 4-tier formula for teachers of Ex-FG colleges also came under discussion in different meetings of the Senate Standing Committee held on 23rd May and 25 July 2017. The Standing Committee was told that the summary regarding revision of promotion formula was sent to Finance Division, which was to be sent to the prime minister through Establishment Division. However, the division had already moved the summary on July 13, 2017 in which it opposed the move.

"We have been demanding to replace the old promotion formula with the one being implemented in K-P," said Professor Sagheer Ahmed, a representative of Federal Government Teachers Association.

While teachers in other provinces are regularly promoted to higher grades, teachers working in the federal capital enjoy no incentives, he said.

Published in The Express Tribune, August 8th, 2017.