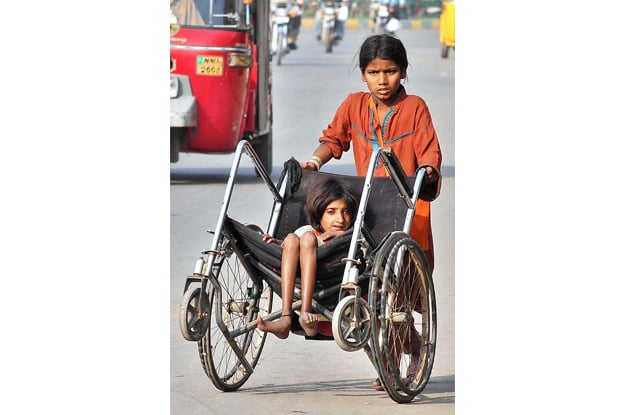 ---
KARACHI: It is high time that universities should be made more accessible to people who are differently-abled, said Dr Sanish Sumbul from Darul Sukun, Karachi.

She was speaking at the second lecture held under the 'Distinguished Speakers Lecture Series' of the Faculty of Social Sciences, Karachi University (KU). The purpose of the lecture, titled 'Disability Etiquette and Protocols', was to raise awareness about differently-abled people and educate the society regarding how they should be treated in a positive manner.

The lecture covered challenges and needs of differently-abled persons and opportunities for them in the country. Addressing the participants, Dr Sumbul pointed out that unlike West, Pakistani society is still not conscious of needs of differently-abled people. She bemoaned that there are no ramps and other facilities for differently-abled people even in places like universities.

'Learn to be angry - that's the first step towards change'

"Now, in modern shopping malls you can see specially designed toilets for differently-abled people. I wish that [such facilities are installed] at all public places," she said.

Discussing the issue of acceptance of differently-abled people in our society, the speaker lamented prevailing negative attitude of Pakistani society regarding differently-abled people. "We still think that being differently-abled is a curse. We stigmatise differently-abled persons and try to hide them from the public's eye".

It is the responsibility of every society to recognise such people as persons in their own right who are able to do many things, which so-called normal people do not expect from them, said Dr Sumbul. She added that our perception of differently-abled persons changes when we engage and interact with them.

Helping those in need: MCCI distributes 100 wheelchairs

KU Faculty of Social Sciences Dean Prof Dr Muhammad Ahmed Qadri, said the issues of differently-abled people are quite complex. He asked his faculty members to organise a conference to highlight the rights of differently-abled persons and the responsibilities of society towards them.