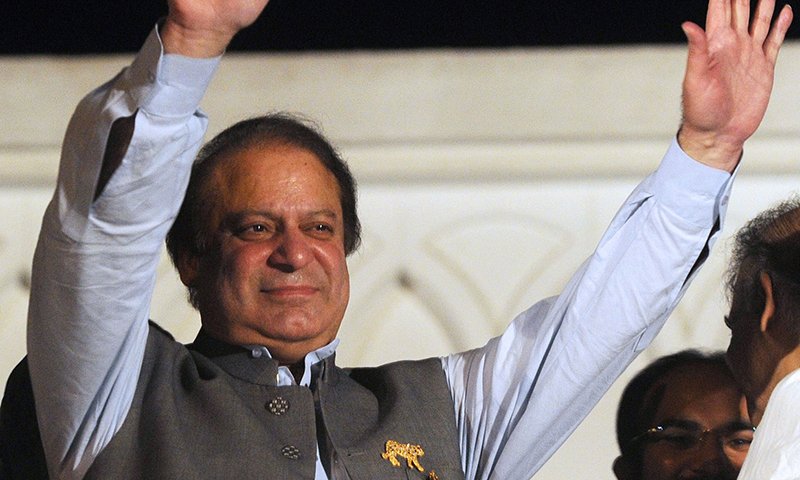 ---
Prime Minister Nawaz Sharif retained the status of a billionaire he gained just before assuming the office of the country's chief executive, with the worth of his declared assets standing at Rs1.84 billion in 2016, details released by the Election Commission of Pakistan (ECP) showed on Thursday.

And he continues to receive substantial amounts from his son despite a controversy surrounding the Panama Papers Leaks that dragged the ruling family to the courts.

The ECP released details of statements of accounts and liabilities of lawmakers for 2016.

Assets owned by Prime Minister Nawaz Sharif and his spouse, Kulsoom Nawaz, were worth just Rs166 million in 2011, which swelled to Rs1.82 billion in the following two years, his statements filed with the ECP showed.

66 MNAs among 336 lawmakers suspended over non-declaration of assets

Since 2013, the worth of assets owned by Nawaz and his spouse is hovering around Rs2 billion, making the couple declared billionaire.

From Rs166 million in 2011, the value of their assets swelled to Rs261.6 million in 2012 and Rs1.82 billion in 2013. And In 2014, the declared value of the assets surged to Rs1.9 billion which stood at Rs1.84 billion in 2015. The amount also included Rs214 worth of assets belonging to Kulsoom Nawaz.

This makes Nawaz one of the richest members of the National Assembly.

Among others with declared assets running into billions of rupees include PTI chief Imran Khan; PTI MNA from Hangu Khayal Zaman with assets worth Rs1.8 billion; an independent member from FATA's Kurram Agency Sajid Hussain Toori with assets worth Rs1.4 billion; and a federal cabinet member Shahid Khaqan Abbasi with assets worth Rs1.2 billion.

PTI concealed foreign fund information: ECP

Documents show that Hussain Nawaz sent his father Nawaz Sharif remittances amounting to Rs233.3 million during 2015-16. Nawaz received Rs215 million from Hussain in 2014-15, Rs239 million in 2013-14 and Rs197.5 million in 2012-13, the year he assumed the office of the Prime Minister.

Interestingly, the Prime Minister has once again declared that he does not own any property or account abroad.

PTI chief Imran Khan is also among billionaires with declared assets worth Rs1.4 billion. He sold the only vehicle registered in his name last year.

In 2015, Imran had declared the value of his total assets at Rs1.026 billion. The value of his residence, declared a 'gift', in Islamabad's Bani Gala locality is Rs750 million. He had declared the same value for this property in 2015. The value of his family home in Zaman Park, Lahore is  stated to be Rs29 million.

ECP to hold re-election if women barred from voting

The PTI chief also declared that he had invested Rs40 million in various schemes. He declared his personal expenditures during the past year were Rs40.9 million.

Prime minister's son-in-law, Muhammad Safdar, an MNA from Manshera, again declared that his wife, Mariam Safdar, does not own any asset abroad. She owns a 2006 model BMW car worth Rs6 million which was gifted to her by someone from the UAE. She had paid Rs3.4 million customs duty and other taxes to get it registered in her name.

Safdar, on the other hand, owns a plot measuring 500 square yard in Sector E-12/4 worth Rs2.5 million. He declared that he owned another plot in Mansehra worth Rs7.8 million, besides another piece of land measuring 8.15 'murrabas' in Rajanpur without specifying its value.

Leader of Opposition in the National Assembly Syed Khursheed Ahmed Shah, who had declared total assets worth more than Rs40 million in 2015, stated they were now worth Rs32.68 million in 2016.

Imran files reply to ECP's contempt notices

Assets owned by Shahid Khaqan Abbasi, who has major shares in the largest private airlines of the country, are worth Rs900 million, and his lands are worth Rs400 million. Excluding a loan of Rs30 million, Abbasi's net worth is around Rs1.29 billion. Abbasi had declared worth of his assets at Rs1.31 billion in the previous year.

The assets of PTI's legislator Khayal Zaman are worth Rs1.89 billion. He tops the billionaires' club of lawmakers. However, he also owes loans worth Rs450 million in the UAE, where he owns properties worth more than Rs880 million.

Ameer Jamat-e-Islami Senator Sirajul Haq has nothing other than cash deposits in two bank accounts that he holds. Haq has Rs439,472 in UBL's Cantonment branch in Peshawar and Rs2,021,156 in Allied Bank Limited's Parliament House branch.

Haq also has agriculture land of unknown worth, besides owning jointly 12 Kanals of land the worth of which was not mentioned either. He is also a partner in a private school.

Measly outlay of Rs2.3b for ECP

Federal Finance Minister Ishaq Dar owns assets worth Rs583.7 million. Dar has also invested Rs325 million in Pakistan Investment Bonds, including defence saving certificate and others.

JUI-F's Senator Maulana Abdul Ghafoor Haideri owns a house in District Kalat, Balochistan worth Rs500,000. He also owns a plot in Gwadar worth Rs150,000, a 20-marla plot in Bhara Kahu worth Rs500,000, and a plot situated at Senate Avenue Housing Society.
COMMENTS (14)
Comments are moderated and generally will be posted if they are on-topic and not abusive.
For more information, please see our Comments FAQ