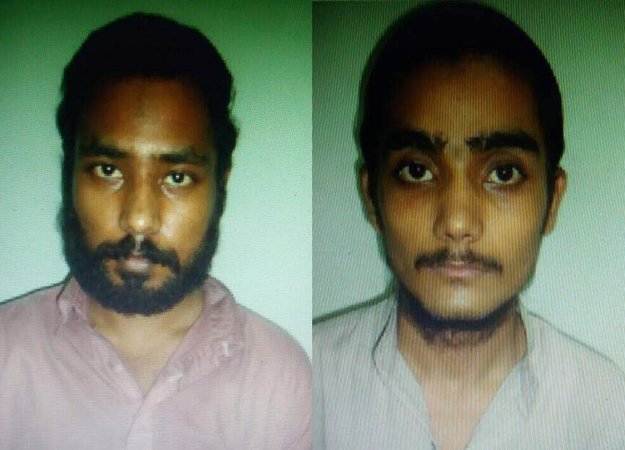 ---
KARACHI: Two members of of the banned Lashkar-e-Jhangvi terrorist group have escaped from the Central Jail, Karachi, police said on Wednesday.

Prison authorities have suspended a dozen officials including the and superintendent approached the district police to register a case against them.

The two militants, Shaikh Muhammad Mumtaz alias Firaun alias Sher Khan alias Shahzad alias Bhai, and Muhammad Ahmed Khan alias Munna, broke out of prison on Tuesday night, a jail official told The Express Tribune.

The two men are members of the Hafiz Qasim Rasheed and Sabir Munna groups of the Lashkar-e-Jhangvi.

13 LeJ militants in custody 'threaten' CTD officials in Karachi

These groups are considered the most dangerous wings of the proscribed sectarian outfit.

Ahmed alias Munna was sentenced to 14 years in prison.

The suspended jail officials include Prison Superintendent Ghulam Murtaza Shaikh, Deputy Superintendent Faheem Memon, Assistant Superintendent Abdul Rehman Shaikh, ASI Faroosh Muhammad, police commando Nawab Ali, and constables Atta Muhammad, Muhammad Amir, Abdul Ghaffor, Saeed Ahmed, Muhammad Sajjad, Tagial Naseer and Nadir Ali.

Prisons DIG Ashraf Ali Nizamani has written a letter to the New Town SHO to register a case against the suspended jail officials.

"It is informed that the two prisoners were found missing and reported to have escaped from the judicial complex adjacent to the Central Prison, Karachi," the letter read.

"You are requested to lodge an FIR under the relevant sections of the law against the officials as the prisoners have escaped because of their negligence."

New LeJ leader killed in encounter with Punjab CTD

Prisons IG Nusrat Mangan told The Express Tribune that the prisoners escaped from the newly built anti-terrorism court complex inside the premises of the central prison.

"The building is on the outer perimeter of the prison and that's why security there is not the same as it is inside the jail building," he added.

"We have suspended some officers linked to the matter and have formed a committee to investigate into the matter. If it is found that someone from within our ranks helped them escape, they will be dealt with sternly."

The official said police teams had been dispatched to track down the two terrorists.


COMMENTS
Comments are moderated and generally will be posted if they are on-topic and not abusive.
For more information, please see our Comments FAQ