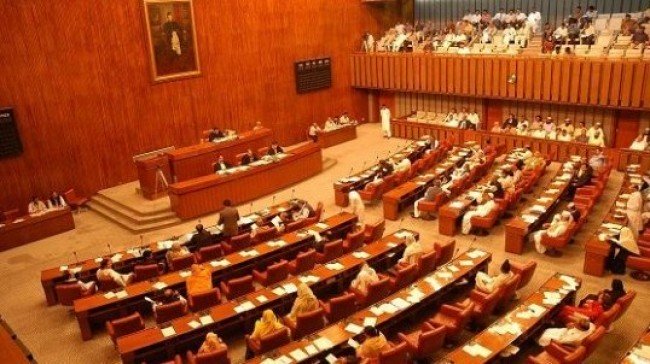 ---
ISLAMABAD: The Senate on Friday referred to its human rights panel the matter of recent enforced disappearances of a cleric from Attock and some other individuals from Badin.

Hafiz Hamdullah of the JUI-F raised the matter of mysterious disappearance of a cleric Mufti Amir Zaman from Attock in Punjab. On Thursday, PPP Senator Sassui Palijo had spoken about some people being picked up from Badin district of Sindh.

PPP Senator Farhatullah Babar said the Senate Human Rights Committee had sometimes back proposed legislation which was subsequently endorsed late last year by the Senate Committee of the Whole on speedy and inexpensive justice.

HRCP confirms 'enforced disappearance' of four people

He said the draft legislation also provides for punishment for holding any accused in unlawful detention and without bringing charges against them.

Babar said: "The Senate Committee of the Whole has also decided that in case the government fails to bring up the proposed legislation to rein in the agencies within 60 days, then the Senate will adopt it as a Private Member's Bill with the support of leaders of parliamentary parties."

The senator, saying that the 60-day period had since been expired, asked Col (retd) Tahir Mashhadi, who was presiding the session, to give a ruling to lay the bill as a Private Member's bill.

Senate refuses to grant finance minister cabinet powers

Babar also asked that the case of mysterious disappearance of the cleric and four other human rights activists who recently disappeared in Badin should be referred to the Senate Committee on Human Rights, a suggestion which Col Mashahdi accepted and referred the matter to the committee.

Hafiz Hamdullah also raised the issue of not mentioning the name of the father of Pakistan's nuclear bomb, Dr AQ Khan, during Yom-e-Takbeer celebrations on May 28. To which, Senator Babar demanded an investigation into the nuclear proliferation from Pakistan.

He said that Gen (retd) Pervez Musharraf had in his book: 'In the Line of Fire' admitted that several tons of nuclear material and drawings had been smuggled from Pakistan to Iran, Libya and North Korea.

Senate to discuss govt performance at ICJ

"However, only one individual -- Dr A Q Khan -- is singled out for committing nuclear proliferation," he said.

The PPP senator said: "It is impossible for any one individual to smuggle out huge centrifuge machines and other nuclear material without the connivance and assistance of many other players."

He called for an inquiry into the matter and bringing all those involved in proliferation to justice.

Bill on compulsory Holy Quran education

Minister of State for Education Bajighur Rehman tabled a bill in the house that seeks to make education of the holy Quran compulsory in schools in Islamabad and Fata. The draft legislation proposes to teach students reading Arabic text of the holy Quran from grade I to grade V and its translation from grade VI to grade X.

The bill 'The Compulsory Teaching of the Holy Quran Bill-2017' has already been passed by the National Assembly. Once it is passed from the Senate, teaching of the holy Quran will become compulsory in ICT and Fata for Muslim students at the school level in all educational institutions.

Sartaj Aziz fails to satisfy Senate on Saudi alliance's mandate

Leader of the Opposition Aitzaz Ahsan remarked: "If parliament makes such legislation, followers of other religions will be demanding teaching of their religious texts to their children in schools."

Passes bill on illegal disposition

The house passed the Illegal Dispossession bill, 2017 by amending some sections of the act passed in 2005. Anyone found guilty of illegally occupying someone's property could face imprisonment for three year.

Air pollution

Responding to a calling attention notice Minister for Environment Zahid Hamid admitted that "Pakistan does not have any reliable system for data monitoring of air pollution".

"Seven centres set up with the help of JAICA back in 2007 have long become non-functional. These centres will become functional once again in July," he added.

Sherry Rehman, the mover of the calling attention notice, said Pakistan was among worst countries in terms air pollution. "Pollution issues have never been taken seriously," she said, adding, "It is causing the country six per cent to its GDP."

She exchanged harsh words when the minister called her 'lady senator'. Rehman reacted angrily, saying: "A senator is a senator, there should be no discrimination on the basis of gender."

"Should I be calling you gentleman minister then," he remarked.

The opposition also protested over mistreatment of Sheikh Rasheed by a PML-N worker inside the parliament house building.