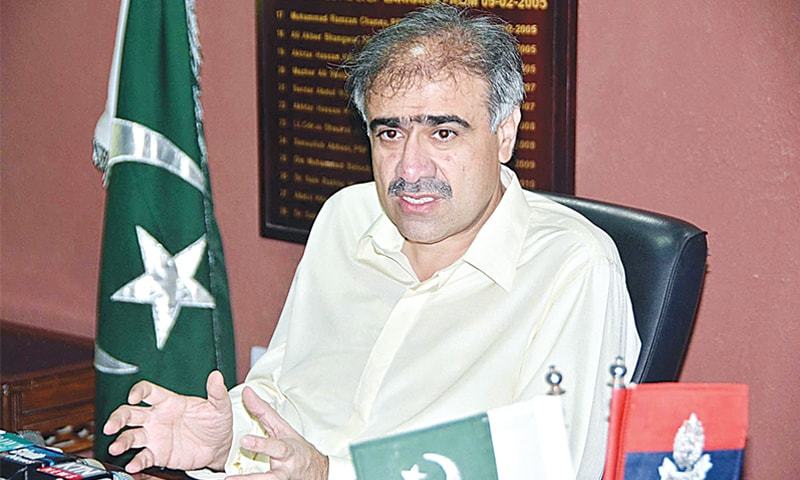 ---
KARACHI: In a new development in the ongoing tussle between the Sindh government and police chief, the ball is now in Inspector General Allah Dino Khawaja's court as Home Minister Sohail Anwar Siyal has sought a camp office at the Central Police Office (CPO).

Sindh govt shortlists names for new IG

Trouble between the Sindh government and IG Khawaja has been brewing since last year, but matters escalated with the appointment of Pakistan Peoples Party leader Siyal as the provincial home minister last month.

The Sindh government has written a letter to the IG asking for the provision of space to establish a camp office for the Home, Agriculture, Mines and Minerals Minister Sial at CPO.

In the letter issued by the services, general administration and coordination department , the authorities requested the IG to assign the old office of the provincial additional inspector general (AIG) located in the CPO building as a camp office for the home minister, as his life was being threatened.

Drawing battle lines: Reshuffle likely to post out IG's confidants

In the letter, it was stated that the current office of the home minister is located in the old barracks of the Pakistan Secretariat Building, which is vulnerable in the prevailing law and order situation of Sindh, particularly in Karachi, and also a threat to the life of the home minister.

Meanwhile, sources in CPO said that senior police officials, including the IG, are unhappy with the government's tactics to create hurdles for the IG. "There are other safe places for mister home minister in Karachi but they selected the CPO to counter the IG," said a senior police official. "Now the Sindh government's intentions have been completely revealed."

According to the officials, IG Khawaja wants the Sindh government to provide alternative secure places for the home minister's office instead of CPO, such the Special Security Unit at Hassan Square and Police Headquarters in Garden.