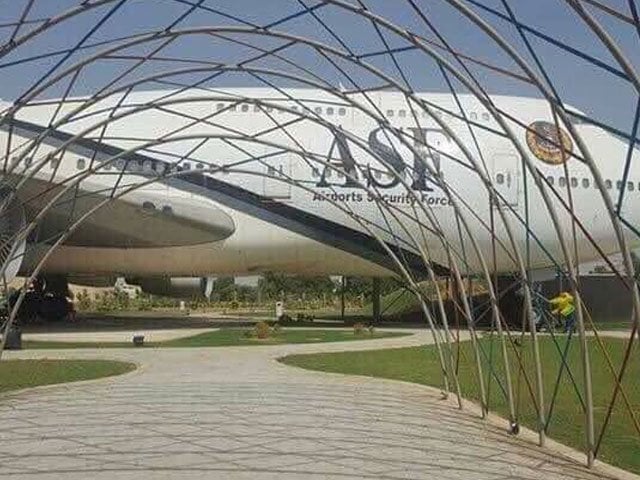 ---
KARACHI: The Airport Security Force (ASF) denied on Saturday the speculations on social media and reports by some publications that an old Pakistan International Airlines (PIA) aircraft had been converted into a restaurant.

"An old jumbo jet, 747-300 AP-BFV, was handed over to the ASF around one-and-a-half years ago for training and that too, free of charge," ASF spokesperson Colonel Kashif told The Express Tribune.




The aircraft retired in 2014 and was stationed at Karachi's Jinnah International Airport until it was handed over to the security force in 2016, he added.

According to Colonel Kashif, sometimes the aircraft was used for training purposes but later it was decided that it must be maintained and changed into an officers' club.

"An officer's club is a mess for our officers and not a restaurant," he added, describing the news circulating on varying platforms as unauthentic.

PIA investigating security breach after 7 passengers forced to stand during flight

"The plane was no longer being used by the airline which is why when asked by the ASF, it was given to them for training," said a PIA official.

He added that around 90 per cent recruits of the ASF did not have first-hand experience with aeroplanes.


ASF converts an old PIA B-747 aircraft into a modern restaurant in #Karachi ✈️
Photos by Faisal Kiyani #BeautifulPakistan pic.twitter.com/FmTKsrzpJN

— Danyal Gilani (@DanyalGilani) May 30, 2017


"The retired PIA jumbo jet has been refurbished into a lavish dine-in area at the old airport for ASF training staff so that they could have their meals while enjoying their time," the official continued. "The opening ceremony of the club will be held next month after Eid."

The cockpit of the aircraft has not been changed as it will continue to be used for training. However, the passenger's area has been converted into an officers' mess. The PIA aircraft is surrounded by Shuhada Park and civilians will be allowed to visit the park and the club during certain hours and at a certain fee.
COMMENTS (1)
Comments are moderated and generally will be posted if they are on-topic and not abusive.
For more information, please see our Comments FAQ