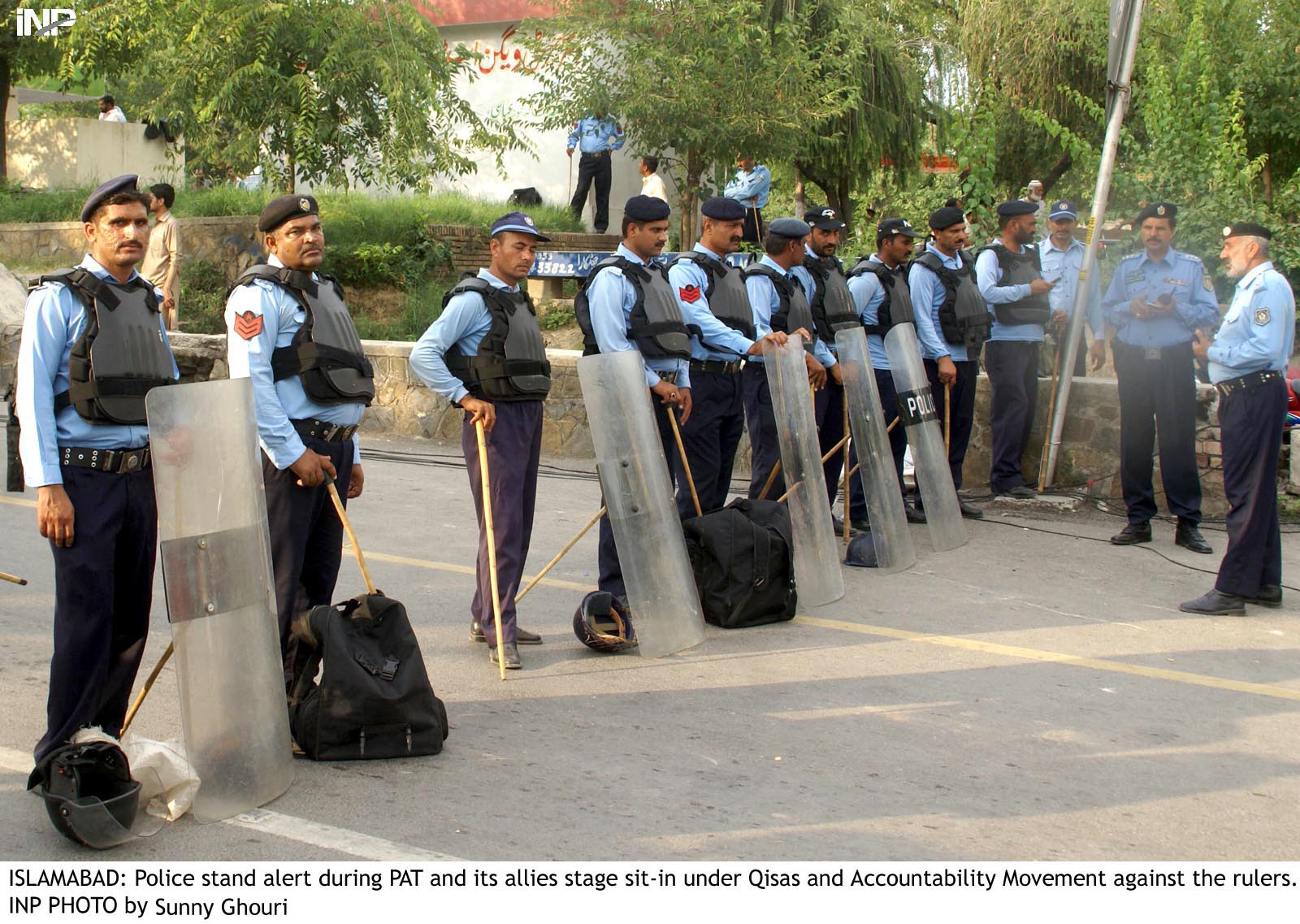 ---
ISLAMABAD: Islamabad Capital Territory (ICT) police have revamped a patrolling system amid deployment of an appropriate level of strength and logistics for surveillance and to ensure security and curb crimes. Besides, SHOs of all police stations have been strictly directed to utilise their mobile vehicles as well as staff from Rescue-15 to curb crimes and ensure protection of lives and property of people.

Highlighting the steps taken to ensure protection of lives in Islamabad, sources at ICT Police on Sunday said Nakabandi points have been established at various key points of Islamabad Capital Territory (ICT) which are functioning round the clock. Proper Nakabandi of all exit and entry points are being held randomly along with other places and different venues and times.

Federal Capital has been divided into different beats and experienced officers have been deputed in each beat to watch the activities of suspects and patrolling vehicles of concerned police stations also patrolling in each beat. Moreover, to redress grievances of public and to involve local police in community policing, Community Police Centre (CPC) has been established and an officer of rank of Sub- Inspector has been deployed at each CP Center to receive complaints from the general public and to initiate an immediate action upon the same for convenience of general public.

The other step was completion of different kind of surveys of katchi abadies, household servants, property dealers, guest houses, hotels, motels and hostels etc. in federal capital.

The particulars of persons are being scrutinised to identify outlaws for initiating further action against them in accordance with law while property dealers as well as owners of hotels, motels/hostels and guest houses have been made responsible to provide the data pertaining to their tenants/ guests to police U/S 144 Cr. P.C. In case of violation action under 188 PPC is initiated against the violators. Similarly, violations of Arms Ordinance, 1965 are being strictly dealt in accordance with law.

Furthermore, to detect the criminals involved in trafficking of illicit arms and ammunition, general holdups at outgoing/incoming roads are being conducted. Previous convicts are also being checked physically as well as through informers. Attention of public is also invited to cooperate with police by disclosing names of suspicious persons to police residing in their localities. Leaflets and pamphlets in this regard are distributed for educating the inhabitants of the Capital city.

The ICT police have also chalked out a contingency plan and the police officers are being specially trained to "Counter Terrorism. Exchange of sector information and intelligence is being ensured to prevent and combat the crime and criminals.

In order to curb the crime in general and terrorism in particular, time to time surveys of Mosques and Deeni Madaris are being carried out for regular surveillance of the activities of students studying in these mosques and madaris. If anyone is found involved in any illegal activity, legal action is initiated without creed and cast. Furthermore, important information is also being shared with local police of Adjoining District, Rawalpindi and other Law Enforcement Agencies (LEAs) to prevent crime as well as to maintain law and order situation.

Published in The Express Tribune, May 22nd, 2017.