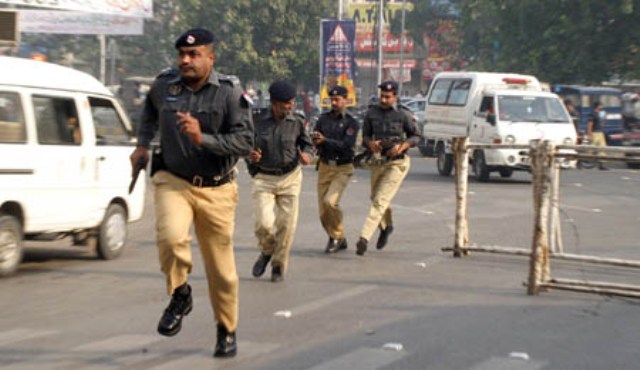 ---
LAHORE: At least 12 police officers, including seven serving SHOs and seven former SHOs, were given punishments over various charges by DIG Operations Dr Haider Ashraf on Monday.

Dr Haider said that these officers should treat citizens gently and perform their duty with honesty. "Our authority is entrusted to us by God. Therefore, we should use our power for the betterment of people. Misbehaving with citizens and misuse of authority will not be tolerated at any cost," he added.

He suspended Factory Area SHO Mumtaz Ali for delaying the registration of FIRs, while censuring and fining SHO Iqbal Town Muhammad Sarwar over the same charges.

He also censured SHO Baghbanpra Hussain Farooq for delaying the registration of FIRs, SHO Ichra Bilal Hanif for not registering an FIR on a complaint, fined SHO Shahdara Town for delay FIR registration and stopped the increment in the salary of SHO Green Town Waseem Akhtar for failing to maintain law and order.

Police detain 60 people for questioning

Similarly, former SHO Wahdat Colony Waqas-ul-Hassan was demoted after allegations of corruption were proven against him, while former SHO Shalimar Iftikhar Ahmad was censured and his increment for three months was stopped.

Dr Haider also censured former SHO Mustafa Town Ishtiaq Ahmad for not submitting recovery items to court, former SHO Liaqatabad Raza Zakir for incompetence, former SHO Johar Town Usman Ahmad and former SHO Shalimar Muhammad Amin for delay in registration of FIRs and former SHO Johar Town Muhammad Ramzan for hiding criminal activity in his area.

He also handed punishments to SI Muhammad Nafees of Garden Town, Constable Muhammad Hussain of Johar Town, Head Constable Safdar and Constable Mehmood of Chowki Begum Kot.

Published in The Express Tribune, May 16th, 2017.
COMMENTS
Comments are moderated and generally will be posted if they are on-topic and not abusive.
For more information, please see our Comments FAQ