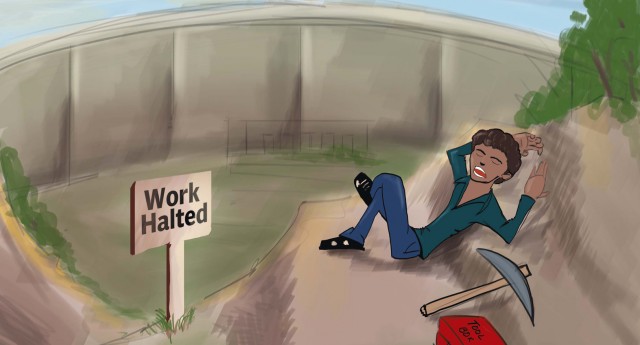 ---
ISLAMABAD: The Water and Power Development Authority may not be able to generate an additional 1,000 megawatts of electricity because of the two-year delay in completion of the Mangla Dam raising project.

The delay is being blamed on red tapism. This was the reason quoted after hot words were exchanged between the officials of Ministry of Finance and the Ministry of Water and Power on Monday. Secretary Ministry of Water and Power, Shahid Rafi and Budget Coordinator Ministry of Finance, Nasrul Aziz accused each other of the delay in release of funds for the 'Raising of Mangla Dam' project in a Public Accounts Committee (PAC) meeting.

"The Mangla Dam project has been excessively delayed, hence we have not been able to generate 1,000 megawatts," said the secretary Ministry of Water and Power. He said that against a demand of Rs10 billion, the finance ministry allocated about Rs6 billion which too were not released. On the other hand, the finance ministry official told PAC that the Ministry of Water and Power did not submit a cash plan to spend development funds. The story was one of the many highlighted by the office of the Auditor General of Pakistan in its audit report, which pointed out Rs4.8 billion irregularities in the Ministry of Water and Power during 2007-08.

The Accountant General of Pakistan also highlighted that the Ministry of Water and Power had Rs18 billion unutilised funds in 2007-08. "Funds for the fourth quarter of the fiscal year were not released by the finance ministry," argued Rafi. The projected started in June 2004 and the scheduled completion date was 2007. Only marginal work and expenditure is now required to benefit from enhanced hydropower of 777 GWH annually.

However, immediate benefits can not be realised due to resettlement issues, as the Ministry of Water and Power needs to pay Rs 10billion in compensation to the affected people," ADB says on the issue of 'Raising of Mangla Dam' project in its audit report of the Rental Power Plants (RPPs). The Auditor General of Pakistan also pointed out that Water and Power Ministry gave extra favour to the consortium of contractors of the project by providing more than Rs2 billion as extra contractual financial obligations.

The facility was extended on the intervention of then President Pervez Musharraf to provide financial relief to the party, said acting Chairman of Wapda Syed Ragib. "Call a spade a spade for heavens sake", said Chairman, PAC, Chaudhry Nisar Ali Khan. He directed the Ministry of Water and Power to recover the amount from the contractor till December 2010. Shahid Rafi said that the financial relief was provided to the contractors on the condition that they would complete the work by June 2008 but they failed to do so.

Published in the Express Tribune, May 18th, 2010.