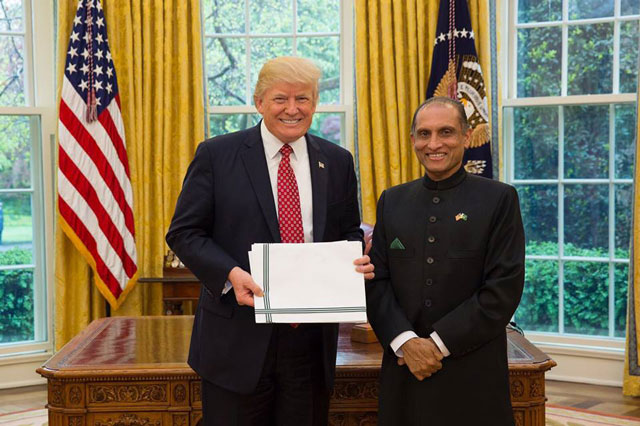 ---
Pakistan's newly-appointed ambassador to the United States Aizaz Ahmad Chaudhry called on US President Donald Trump at the White House on Monday.

Presenting his credentials to the US president, Chaudhry conveyed best wishes and commitment of Islamabad and the people of Pakistan for strengthening friendly ties between the two countries.




Pakistan Ambassador to US Mr. Aizaz Chaudhry with the US President Mr.Donald J. Trump while presenting his credentials at White House today. pic.twitter.com/E0xJCYtj3q

— Pakistan Embassy US (@PakinUSA) April 25, 2017


Aizaz Chaudhry appointed Pakistan's ambassador to US

The former foreign secretary was named as ambassador of Pakistan to the US in mid February and joined his new responsibilities in Washington last month.

Chaudhry is a Foreign Service Officer with over 36 years of bilateral and multilateral experience in the field of diplomacy. He also authored a book 'Pakistan Mirrored to Dutch Eyes' published by Sangemeel Publications.

Born on February 27, 1958, Chaudhry, who has replaced Jalil Abbas Jilani in the US, holds a Masters degree in International Relations from Fletcher School of Law and Diplomacy, Medford, Massachusetts, and a BS from the Punjab University, Lahore.

Meanwhile, Acting Deputy Secretary of State Tom Shannon called on Finance Minister Ishaq Dar at the Pakistani Embassy in Washington DC.


Mr. Tom Shannon,Acting Deputy Secretary of State called on Finance Minister Senator Ishaq Dar at Embassy of Pakistan Washington DC today pic.twitter.com/P4NHdCakYf

— Pakistan Embassy US (@PakinUSA) April 24, 2017
COMMENTS (3)
Comments are moderated and generally will be posted if they are on-topic and not abusive.
For more information, please see our Comments FAQ