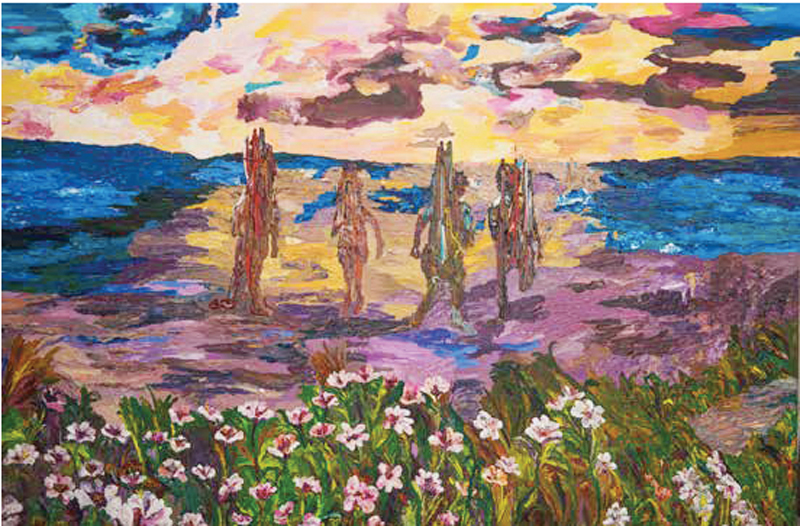 ---
LAHORE: More than 72 graduating students of the Beaconhouse National University visual studies department have put their months of efforts on display.

The thesis show 2017 of the BNU's Mariam Dawood School of Visual Arts and Design features works of students of fine arts, visual arts, visual communication design, textile and fibre studies, fashion and fibre studies, and jewellery and accessory design. The degree show will continue till April 28 and is open for public from 11am till 7pm at the varsity's Tarogil Campus.

SVAD Dean Prof Rashid Rana said the department was proud to present the undergraduate thesis exhibition of its 11th batch.

It's an art: Creative minds get to strut their stuff

"Our ethos and academic structure is designed in such a way that it promotes interdisciplinary investigations which leads to an interesting visual dialogue more apt for contemporary times," he said. "The academic structure allows our students to design personalised paths of exploration that result in diversity of thought and practice.

"SVAD graduates come from diverse backgrounds from many countries across South Asia which is a strength we cherish. They have made their mark and continue to do so not only in their respective countries but also on the global stage," Prof Rashid added.

According to thesis supervisors Risham Syed and Matt Kushan, despite the variety of works produced this year, there are many commonalities amongst them.

The works presented here, speak volumes for the creative approach each individual has taken. Generating a curious visual dialogue, there are concerns of form and fabrication, notions of self-discovery and reflection, questions of history and identity, ideas of materiality and interpretation, they added.




Visual arts graduate Asma Riaz said her work revolved around her perception of nature and how she related it to some things that were missing in relationships. "Derived from personal experiences from within one's family and society, my work becomes a comparison between myself and the natural forces around me, emphasising the obstacles and emotions felt by me," she explained.

Asma's simultaneous use of childlike and mature expression acts as an indirect representation of one's inner conflicts and turmoil. "The intention is to showcase how the absence of one specific relation can have such a strong influence on life," she says. "Strong colours of expression portray a missing identity which is not present in reality but only in one's imagination."

Four young artists' diverse work on display at Full Circle

Latifa Zafar Attaii's work deals with the concepts of femininity and ethnicity. To be born, brought up and live in a society where one is intrinsically deprived and forgotten as a female, isolated and labelled as the 'other' in one's own homeland, femininity and ethnicity become one's identity, she explains.

"Struggling with this identity in a patriarchal society, self-expression becomes a necessity and I express myself against these exclusions, deprivations and expectations of the society," Latifa says. "I weave the pain and the untold stories the society refuses to see or to hear otherwise."

According to the artist, embroidery has never been just a decoration but a mythical fact of protection in history. In certain societies, it is even considered as a powerful magic tool for shaping reality and for producing order from chaos. For Latifa, needlepoint patterns are not pictures but words of a symbolic language.

Published in The Express Tribune, April 24th, 2017.