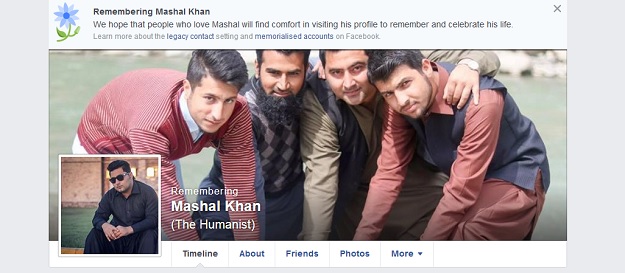 ---
Facebook on Monday memorialised the account of Mashal Khan, a Mardan university student who was lynched on blasphemy allegations on April 13.

The social networking site initiated memorialised accounts to allow people to honour and celebrate deceased users.




"Memorialised accounts are a place for friends and family to gather and share memories after a person has passed away. Memorialising an account also helps keep it secure by preventing anyone from logging into it," Facebook says.

No blasphemous material found in Mashal Khan case: K-P CM

Since his death, the 23-year-old's Facebook posts have been shared on various networking sites by friends, family and strangers who did not know him but are inspired by the words he posted.

[fbpost link="https://www.facebook.com/mashal.khan.1675275/posts/1267135636688105?pnref=story"]

A student of Journalism and Mass Communication at the Abdul Wali Khan University in Mardan, Mashal was shot and beaten to death and his body desecrated within the university premises by a mob accusing him of committing 'blasphemy'.

Mardan university student accused of blasphemy beaten to death on campus

According to official sources, a total of 15 people have been arrested while 20 were identified through videos of attack. Mardan police chief Alam Shinwari said the accused will be tried in anti-terrorism courts.
COMMENTS (6)
Comments are moderated and generally will be posted if they are on-topic and not abusive.
For more information, please see our Comments FAQ