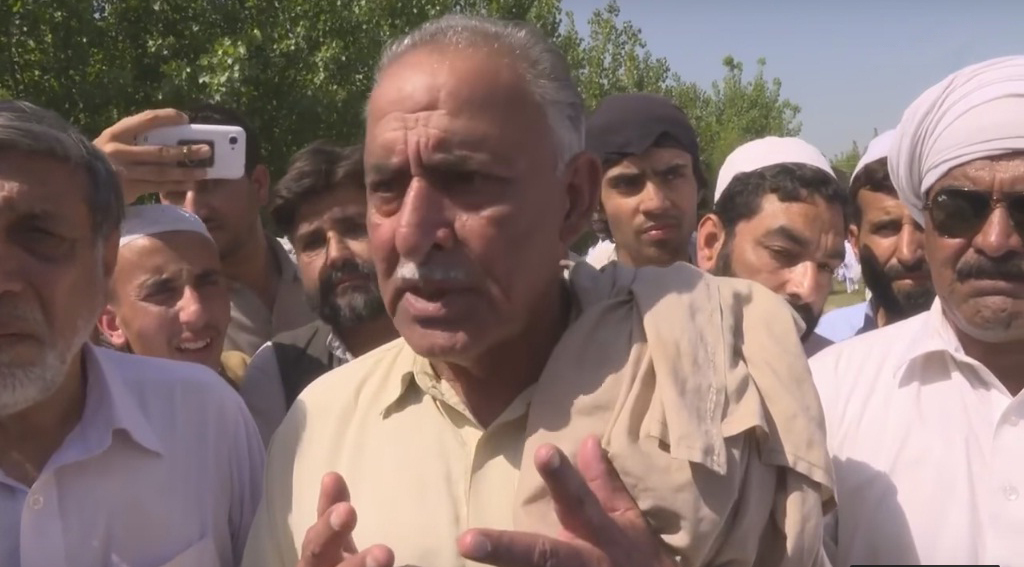 ---
SWABI: With lack of faith in the civilian courts to deliver justice, the aggrieved father of the brutally slain Mashal Khan wants the killers of his son to be tried in military court.

"I respect the notice taken by the chief justice, premier and civil society for the justice for my son, but I believe it was an act of militancy and the killers should be tried in military court," Muhammad Iqbal Khan told The Express Tribune in an exclusive interview on Sunday at his residence.

Mashal, a student of Journalism and Mass Communication at the Abdul Wali Khan University (AWKU), was shot in the head and chest and then his body desecrated by a mob who accused him of committing blasphemy.

Mardan lynching: More suspects identified as shocking details trickles in

The harrowing video of the sickening violence shot by mobile phone cameras showed Mashal's disrobed body being dragged, first in a hallway and then on a road of the campus.

Opposing the idea of constituting a judicial commission to probe the killing of his son, he said we have seen the Supreme Court constitute several judicial commissions but none have delivered any results.

"If Mashal gets justice with the culprits being punished according to the law, Pakistan's image will shine even brighter in the international community and we will be satisfied," Iqbal said.

Taking blasphemy out of the equation

On the third day of mourning, many political party leaders and civil society members staged a protest in the native town of Mashal, Zaida village, district Swabi. They chanted, "Shaheed Hay, Shaheed Hay, Mashal Khan Shaheed Hay [Mashal Khan is a martyr]."

A local social worker who arranged the protest, Muhammad Ali Khan, told The Express Tribune that through protests we want to take the word blasphemy out of the equation as it was fabricated by some elements of society. We have been successful so far in our efforts, he added.

Security measures

Fearing retaliation and condemnation by local elders, the police arrested local Imam Mufti Fazal Amin who had asked locals and other religious scholars of the area not to offer funeral prayers of Mashal. The mufti was later released.

Meanwhile, police have placed four police constables and an assistant sub-inspector at the grave of Mashal to prevent any mishap. Special elite force and traffic police have also been stationed at the entrance and exit points of the village.

Pakhtunkhwa Ulasi Tehreek

The Pakhtunkhwa Ulasi Tehreek members chanted slogans against the administration of the AWKU and Mardan police department. They accused the academia of hatching a conspiracy to kill Mashal as he always raised his voice for students' rights.

"Those who killed Mashal should be treated like militants and tried in military court," said Dr Alam Mehsood. "If evidence is required, university footage of the horrific mishap are available."

The attackers, who were in their hundreds, kept pelting stones at him even after he died, he added.

He said the judicial commission has not delivered any results in the recent past, so hope for justice is only through military courts and any move by the chief of army staff in this regard will be welcomed.

"If someone has committed such a heinous crime in the name of the Holy Prophet (PBUH), then in his love they should reveal their identities to the police," Mehsood said. "Why are they afraid to be hanged in the love of the Prophet (PBUH), they should be proud of their act."

Family profile

Mashal has three siblings – a brother and two sisters. His brother Amial Khan is in the commando force of the air force. His sister, Stooria Khan, is a first year pharmacy student in a university in Swabi and younger sister is studying in ninth grade in a local school.

Mashal stood first in every class till intermediate when he secured a scholarship to study in a Russian university. After a year, he returned without completing his engineering studies and got enrolled in the department of journalism at AWKU.

He was a Pashto poet and well versed in Urdu.

CJP takes notice of Mardan lynching

Divided society

Despite clarification from the government corners and high-ups of the police force that they have not found any clue of blasphemy, residents of the area appear to be divided. Some residents distanced themselves from the third day of mourning, Mashal's cousins said.

No request for forensic analysis of Facebook account

The Federal Investigation Agency (FIA) has not received any request on behalf of the police or the Khyber-Pakhtunkhwa provincial government for forensic analysis of Facebook account of Mashal, an interior ministry spokesman said.

According to him, upon formal request by the provincial government, the interior ministry would give approval and FIA will provide every possible support in this context.

Published in The Express Tribune, April 17th, 2017.