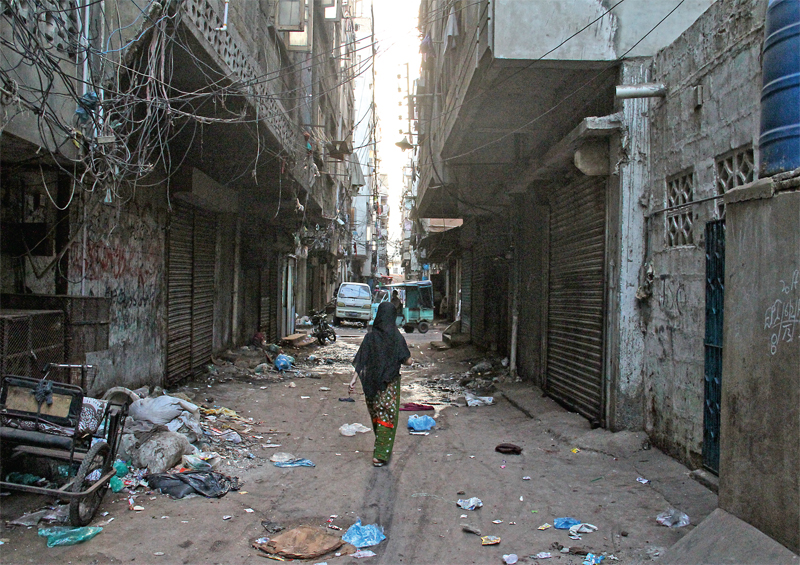 ---
KARACHI: You are only alive because you wear the hijab, warns a deep voice. But telephonic threats like these do not deter the courageous 24-year-old woman from Lyari, Mahira Miyanji, who is working to educate the women of Moosa Lane.

The words and threats still echo in her ears but she never lets them stifle her brave spirit. Miyanji, who is currently pursuing her Master's in Business Administration and is the fourth of six siblings, has always wanted to be a teacher.

The courageous girl is running a tuition centre to educate the girls of Lyari free of charge. The Women is a Nation (WIN) centre caters to 125 girls and has a team of 12 volunteers who are working free of charge for the education and empowerment of women in Lyari and spend half their day at the centre.

Brazilian coach awestruck by football talent in Lyari

"I started teaching neighbourhood girls on the terrace of my residence in Baghdadi area when I was in class seven," Miyanji told The Express Tribune. While she was doing her intermediate, she shared the idea of teaching underprivileged girls who are school dropouts or have never been to school with one of her teachers at the coaching centre where she studied.

Her teacher, Saqib Haroon, appreciated the idea and helped her make her dream a reality. "I discussed the idea with one of my teachers and he provided us with a space free of charge to start our tuition system in Nawa Lane near Cheel Chowk," said Haroon about the centre's beginning in 2013

The aftermath: 'Let's join hands to stop gang wars'

A number of women joined the centre but some local thugs and influential persons were not happy with the idea of women acquiring education or confidence. "They use to threaten us via phone calls, messages and even letters dropped at our centre," she said.

Haroon recalled how he was once abducted, beaten up, kept for a day and then released amid threats of worse treatment. "We want to work for the betterment of the people and didn't know that it could be a problem for anyone," he said.

After many similar issues, Miyanji and Haroon decided to leave the place and shifted their centre to Moosa Lane.

"After years of problems and threats, we are now working seamlessly and people have stopped disturbing our work," she said, adding that girls from all over Lyari come to the centre, especially those who are deprived of school education.

The centre's current building consists of four rooms and has been leased for the centre by the Katchi Jamaat.

The total monthly expenditure, including electricity, drinking water, books and maintenance, is Rs15,000 and is managed by the volunteers themselves as almost all of them work elsewhere in the morning.

Other than primary, secondary and computer classes, WIN also has a vocational training centre where elderly residents of the area are taught stitching.

Fourteen-year-old Zubeida Muhammad, who walks for half an hour to reach WIN, has never been to school. But now, after a year of studying with Miyanji, she is ready to sit for the entrance test. "My brother used to study at DCTO School, which is nearby, and from there I got to know about WIN," she said, adding that she wants to be like Miyanji and serve the girls of the area the same way she does.

Shajar Ali, who aims to pursue a Master's in Media Sciences, is a volunteer at the centre and feels happy that he can work for the betterment of the women of his locality. "Our women need motivation and encouragement," he said, adding that he feels a sense of pride when teaching the girls.

Published in The Express Tribune, March 30th, 2017.