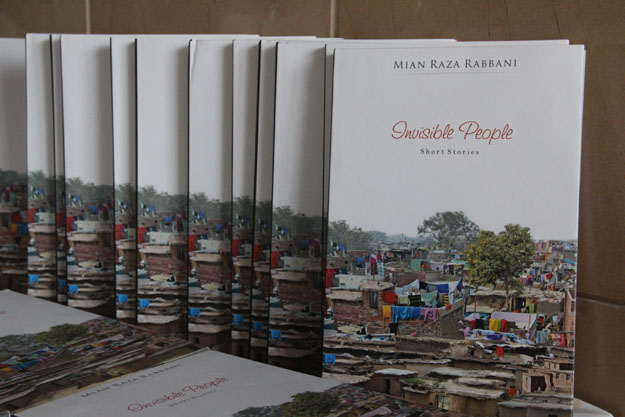 ---
KARACHI: A book of short stories on the lives of common people authored by the Senate Chairperson Mian Raza Rabbani was re-launched on Sunday at the request of the Arts Council of Pakistan, Karachi President Ahmed Shah.

The book, tiled 'Invisible People - Short Stories', was earlier launched in Islamabad in February.

Senator Rabbani narrated one of the very first stories from his book in which a pigeon got stuck in his room and could not find a way out until someone opened a window and he flew away. "I felt the same, as I am caged and cannot do much for my people despite having the post of the chairperson of the Senate," he explained.

All the stories are first-hand experiences, he pointed out, adding that a majority of the stories are what people do not see but is the real Pakistan and the miseries of the common man.

Revival of military courts unfortunate, says Rabbani

"People of the elite class do not see what someone living in a slum is going through but by narrating their pain I have tried to do a little justice to them," said Senator Rabbani. Answering questions by journalist Ghazi Salahuddin on why he wrote a book of this type and why in English language instead of Urdu, which is Pakistan's national language and has a wider reach among the people, Senator Rabbani answered, "My Urdu is not as good as my English but I really felt that to reach the masses the national language should have been adopted". He added that the reason for writing these stories of common people and their issues is because he felt frustrated and believed it a personal failure that he could not do anything for these people, despite his current position.

Suggesting ways for the country to grow, he said that people need to put aside their double standards. He narrated an example of this, saying that when it comes to accepting prostitutes in the community and giving them a better life everyone agrees but when the time comes to take concrete steps for this, everyone steps back.

Remembering the city he spent his childhood in, Senator Rabbani reminisced how during his university years he was active in student politics. He said having a book launch in Karachi was necessary. "Karachi is a city with a soul that carries a lot of pain; it has seen many movements starting from here, whether it was against Ayub Khan, Yahya Khan or Pervez Musharaf," he said.

Book launch: Iqbal's vision through the eyes of his children

Federal Minister of Shipping and Ports Senator Mir Hasil Khan Bizenjo, Sindh's Parliamentary Affairs Minister Nisar Ahmed Khuhro, Journalist Mujahid Barelvi, Salahuddin, Urdu columnist Zahida Hina and Professor Dr Charles Amjad Ali also spoke on the occasion about Rabbani, his books and his struggle in the country's political world.
COMMENTS
Comments are moderated and generally will be posted if they are on-topic and not abusive.
For more information, please see our Comments FAQ