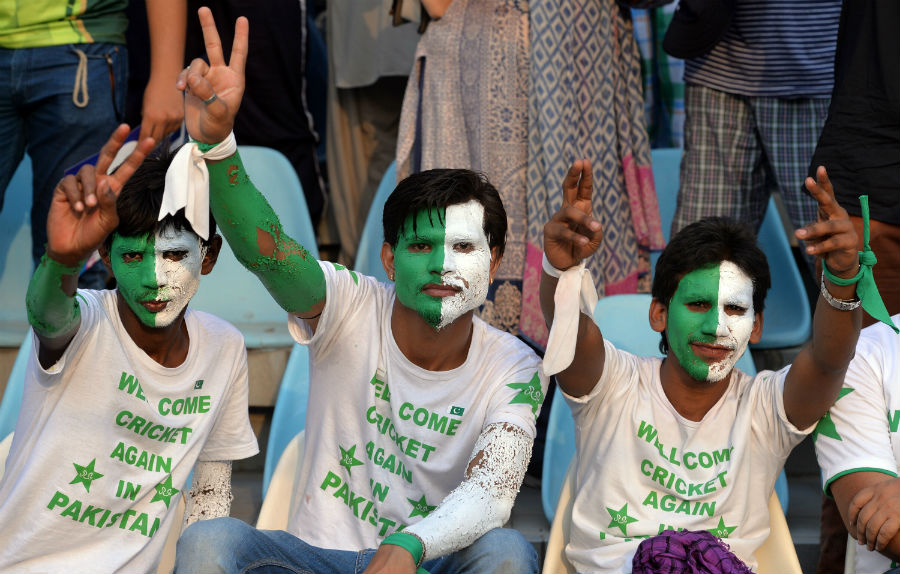 ---
LAHORE: Cricket lovers continued to line up outside Bank of Punjab (BoP) branches on Thursday to get their hands on tickets for the Pakistan Super League (PSL) final.

Long queues of cricket enthusiasts were seen outside banks in the provincial capital for the second consecutive day. Many of them stood in front of the BoP head office on Gulberg Main Boulevard and some had even been waiting since 7am.

"Yesterday, I reached here at around 10am but could not get near the ticket window even after eight hours. Today, I left home after Fajr prayers to grab PSL final tickets for my family, but I still don't foresee any chance" said Abid Khan.

Imran sticks to his guns, opposes Lahore final

Cricket fans complained that the Pakistan Cricket Board (PCB), on Wednesday, announced it would provide more tickets to the banks for sale. However, bank officials said they were yet to receive a single ticket from the organisers.

Speaking to The Express Tribune, a BoP official confirmed the bank did not receive any tickets from the PSL organisers on Thursday. "We had a limited number of Rs8,000 tickets for sale, which had also been sold in a couple of hours. Now we don't have any tickets for sale but cricket fans are not willing hear any excuse," he disclosed.

The black market

Black marketing of PSL final tickets continued on social media websites and online sales portals on the Thursday. Black marketers remained active over on social media platforms, offering the Rs500 ticket for a premium price of Rs2,000.

They mentioned mobile phone numbers under PSL ticket offers. A post on Lahore Buying Selling Facebook page reads: "PSL Final Tickets Available. Now Just 50 Tickets Remaining. Contact Number 034553XXXX."

FIA action

The Federal Investigation Agency (FIA) on Thursday arrested a person for illegally selling the PSL final ticket on Facebook. Umar Waqas s/o Muhammad Farooq was detained by the FIA's Cyber Crime Circle from Gulberg area for illegally selling Rs500 tickets for Rs3,000.

FIA officials also recovered four tickets from his procession and seized Facebook chat logs on his mobile phone. The agency registered a case (FIR No.23/17) and started investigation.

Security

City police and law enforcing conducted a complete rehearsal from Lahore Airport to Pearl Continental Hotel on Mall Road. Capital City Police Officer along with other senior officials visited Qaddafi Stadium to inspect security arrangements for the final.

Punjab Rangers also deployed their contingents in and around the stadium. Security agencies blocked all entry and exit points of the Qaddafi Stadium for reasons. Law enforcing agencies installed over 500 close circuit television (CCTV) cameras to monitor all activities.

CM's orders: 'Public should have easy access to PSL'

District administration and law enforcing also ordered the management of the hotel to cancel all events scheduled for Sunday and minimise rush during the stay of cricket players.

The district administration also instructed banquet halls to keep their businesses closed on Sunday as law enforcing agencies decided to seal the whole area for all types of traffic.

Emergency services

Punjab Emergency Services (Rescue 1122) Director General Dr Rizwan Naseer, along with other senior officials visited, Qaddafi Stadium to review the emergency plan. He disclosed that Rescue 1122 would deploy extra ambulances and staff to provide emergency, rescue and medical cover to spectators of PSL final on Sunday.

Parking and transport

The government made arrangements for motorcycle and car parking at six places. According the plan, traffic coming from the Mall Road, Dharampura, Anarkali, Qartaba Chowk and City Division via Ferozpur Road will park their vehicles under the Muslim Town Bridge.

People coming from the Mall Road via Canal Road will park in the FC College parking lot. Spectators coming from Gulberg, Cantt and Jail Road will park at Liberty Market and Tariq Road (cars only).

Spectators coming from Cavalry Ground, DHA, Cantt, Johar Town, Faisal Town and Wapda Town using Season Chowk crossing at Kalma Chowk will park at Liberty Market. HKB and Jam-e-Shireen parking is for cars only after parking at Liberty Market and Sunfort Hotel is full.

Traffic coming from Cavalry Bridge, Walton Road, Gulberg and Gurumangat Road using Cavalry Bridge will park at Liberty Market and HKB (alternate parking). VIP spectators will park at the PCSIR ground.

Published in The Express Tribune, March 3rd, 2017.