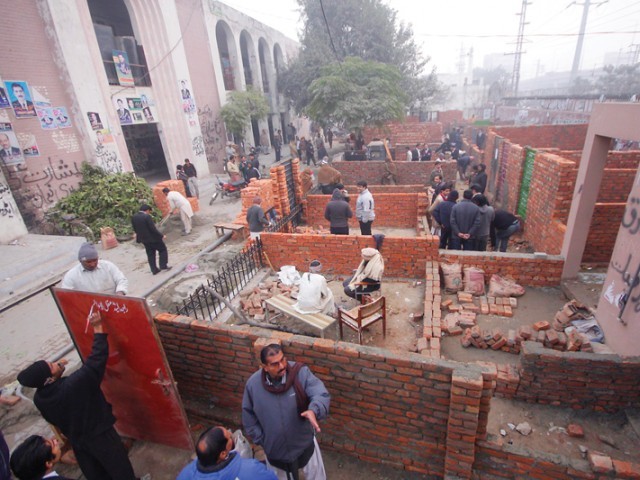 ---
LAHORE: Observers have complained that some lawyers are safeguarding their own interest and proving to be a nuisance by hampering security measures at Model Town courts.

For one, they are creating hurdles in removing stamp vendors who are stationed near the main gate. A reliable source said the vendors pay a 'fee' to the lawyers.

Also, certain members of the legal fraternity seem least interested in vacating illegal residences constructed around the Model Town courts towards the railway tracks. In some cases, the houses have been given out on rent by the layers to others.

However, motorcycle parking was shifted from in front of the courts. By the same token, the motorcycle parking of Aiwan-e-Adl is also likely to be shifted towards the opposite side of the building.

Talking to The Express Tribune, SP model Town Ismaeel Kharak confirmed the bike parking had been shifted, adding all possible arrangements had been made to improve security measures at the courts.

Recently, the road between Aiwan-e-Adle and the senior civil judge court premises, which lacked camera access, was blocked by the Lahore Bar Association (LBA) for any movement.

Some snipers will also be deployed at the bridge between Aiwan-e-Adl and the senior civil judge court complex to deal with any untoward incident.

LBA Secretary Farhan Mustafa Jaffri confirmed that the parking lots had been shifted to the opposite side of Aiwan-e-Adl. He said lawyers would be able to park their bikes in a single row, adding a second one will not be allowed to avoid traffic jams.

He said six walkthrough gates sent from the Lahore High Court lay dysfunctional and were replaced with new ones. He stressed all possible arrangements had been made to avoid an untoward incident.

To a query about the recently blocked road, he assured four cameras would be installed to monitor movements.

Police deployed at district courts expressed their concerns over security arrangements, saying they were not satisfied with the steps at the civil courts and Aiwan-e-Adl.

Senior civil Judge Syed Ali Abbas said security arrangements were being improved at the civil courts.

LBA Model Town Vice-President Mian Naeem Hassan Watto said issues surrounding removing stamp vendors and vacating residences would be resolved soon as negotiations were afoot with reluctant lawyers.

Wattoo said the matter had been discussed with the LBA president and will be brought to the notice of the LHC chief justice.

Published in The Express Tribune, March 1st, 2017.          
COMMENTS
Comments are moderated and generally will be posted if they are on-topic and not abusive.
For more information, please see our Comments FAQ