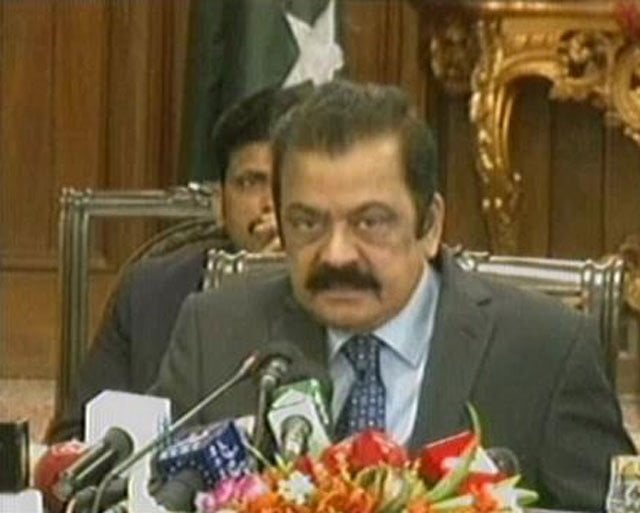 ---
Punjab Law Minister Rana Sanaullah claimed on Friday that the 'mysterious' blast which rocked Lahore's Defence neighbourhood on Thursday, leaving at least eight dead and scores injured, was caused by a gas leakage.

"Yesterday's explosion was an accident. It was not caused by explosives or a result of terrorism," the provincial law minister said while addressing a press conference in Lahore.

"The presence of gas cylinders and leakage has been confirmed on the site," he continued. "We got the forensic report this morning and the results and conclusions are that there was no indication of explosives or related materials."

The blast that took place on Thursday ripped through Alferno Café', situated in the basement of a building, at 11.17am. The café was scheduled to be inaugurated a few days later. The owner of the café, Moazzam Paracha, and over 20 workers were present in the café when the explosion occurred.

Sanaullah lamented that sections of the media did not verify the facts and ran with misleading claims that yesterday's blast was a terror incident which, he said, created panic in the city.

Eight dead as mystery blast wrecks Lahore cafe

Citing the report of the forensic science laboratory, the minister said it confirmed gas leakage at the site of the incident. He did, however, mention that a final conclusion of the findings will be shared with the people.

In response to a question, the law minister said the Pakistan Electronic Media Regulatory Authority (Pemra) had taken notice of the fake reports of a second bomb blast in the Gulberg area of the provincial capital and issued notices to several TV channels for violating the media regulator's code of conduct.

Meanwhile, Punjab Home Secretary Azam Suleman said Inter-Services Public Relations (ISPR) rejected all fake audio messages which claimed the army men warned people of security threats. "Agencies are looking into the matter and the culprit behind such rumours will be dealt with according to the law," he said.

Punjab IGP Mushtaq Sukhera also slammed rumours on social media claiming shoot-at-sight orders had been given to the police. "No such instructions have been issued," he said.

The blast followed a suicide attack in the provincial capital, on February 13, which claimed the lives of at least 13 people — among them two senior police officials.
COMMENTS (13)
Comments are moderated and generally will be posted if they are on-topic and not abusive.
For more information, please see our Comments FAQ