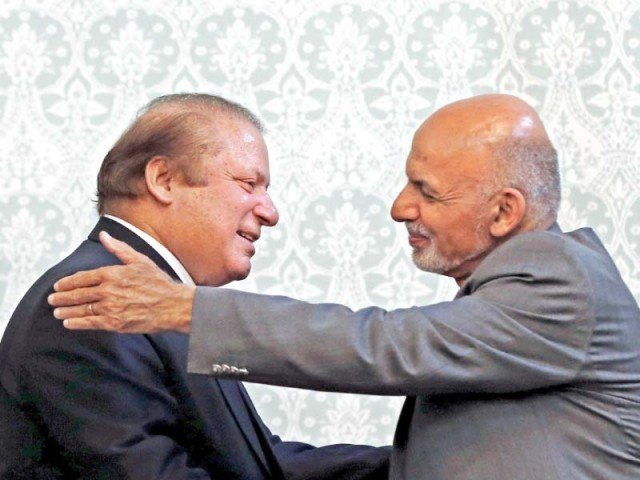 ---
ISLAMABAD: Pakistan on Thursday welcomed Afghanistan's willingness to discuss issues related to peace and security under the framework of Quadrilateral Coordination Group (QCG), a four-nation initiative, considered long dead due to acrimonious relations between the two neighbours.

The QCG involving Pakistan, Afghanistan, China and the United States could not hold any meeting since the killing of Afghan Taliban chief Mullah Akhtar Mansoor in a US drone strike in Balochistan in July last year. The process was suspended primarily due to differences between Islamabad and Kabul on how to pursue peace efforts in Afghanistan.

Afghanistan being used for proxy war against Pakistan: PM

Kabul insisted that the time for negotiations was over and hence force should be used against the Taliban.

Islamabad, however, argued that any decision regarding the use of military option would be taken with consensus.

The recent wave of terrorist attacks prompted Pakistan to exert renewed pressure on Afghanistan to take action against terrorist hideouts of the banned Tehreek-e-Taliban Pakistan and its faction Jamaatul Ahrar on Afghan soil. Reacting to Pakistan's demand, Kabul said it was willing to discuss all issues under the framework of QCG.

At a weekly news briefing on Thursday when the Foreign Office spokesperson was asked whether the QCG process could be revived, Nafees Zakaria said Pakistan remained committed to peace and stability in Afghanistan and the QCG was an important forum to achieve that objective. "We believe the QCG is an important mechanism, which has done significant groundwork for preparation of a roadmap for the Afghan peace process," Zakaria added.

He said Pakistan had, therefore, continued to emphasise the need for working together in the QCG for the objective of lasting peace in Afghanistan. "It seems that finally Afghanistan is also enunciating its willingness to move forward in our engagement in the QCG and address the important issues of peace and security through this process. We believe such an approach would augur well for peace and security in Afghanistan and the region," the spokesperson said.

Answering a question about the use of Afghan soil against Pakistan, Zakria said terrorism was a common enemy affecting both the countries. During the Afghan ambassador's call on Foreign Affairs Adviser Sartaj Aziz, he had assured of Afghanistan's full cooperation. The meeting was held in a very positive environment. Both sides agreed that meaningful engagement was imperative for addressing the challenge of cross-border terrorism.

He said both recognised the need for a constructive government-to-government interaction as an imperative. "Effective border management is important to ensure preventing cross-border movement of terrorists. We hope for strengthening of bilateral cooperation in all areas, including political, security, economic and humanitarian fields."

Pak-Afghan stand-off: the way forward

Regarding reports of Indian intelligence agencies' involvement in the recent terrorist attacks in Pakistan, the spokesperson said that although the government did not want to give a kneejerk reaction, the involvement of India in terrorism and terror financing in Pakistan was a well-proven fact.

Reacting to the statement of Indian Home Minister Rajnath Singh that the recent house arrest of Jammatud Dawa chief Hafiz Saeed was an eyewash, Zakria hit back by saying that Indian attempts to play victim would have credibility if Indian allegations were not motivated by the desire to malign Pakistan and India's own record was clean.

"Pakistan is a victim of terrorism and has suffered hugely, both in terms of human and economic losses," he said. "Indian involvement in terrorism in Pakistan is well known. Confessions of Kulbhushan Yadav and Swami Aseemanand are a manifestation of that fact," he added.

The spokesperson said Pakistan was fighting terrorism like no other country had done. "India needs introspection. India must realise that peace in the region is in India's own interest as well," he stressed.

Published in The Express Tribune, February 24th, 2017.
COMMENTS (3)
Comments are moderated and generally will be posted if they are on-topic and not abusive.
For more information, please see our Comments FAQ