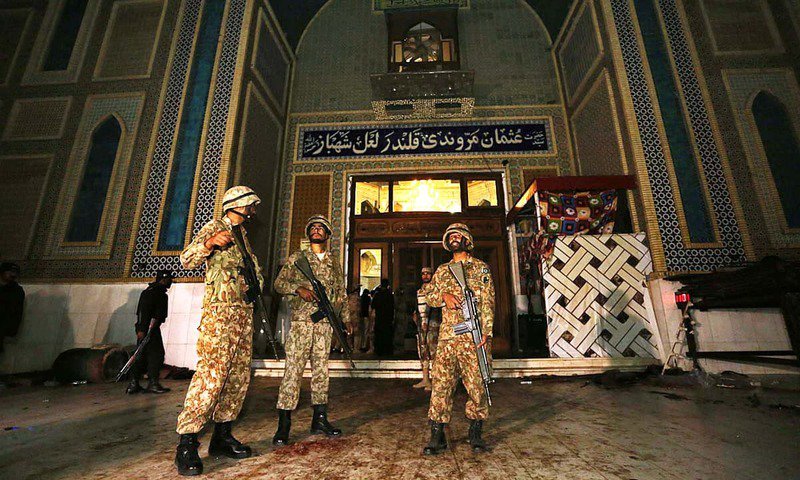 ---
KARACHI: The Pakistan Peoples Party (PPP) leaders fear that in the wake of the recent wave of terrorism in Sindh, results of next year's general elections could yield the same results as that of 2013.

Two PPP local government representatives 'held' in connection with Sehwan blast

"Only those who have supported extremist groups benefit from the recurrence of terrorism. We being a liberal party have always faced wrath," Maula Bux Chandio said, adding that he was confident the party would work to overcome the situation. Sindh has a unique history of religious harmony, co-existence and tolerance as most of the Sufis in this land have always preached love and peace.

But terror attacks in last two to three years, especially rural areas, have created resentment among the ranks and files of the provincial ruling party, which has been in power since 2008.

Whether it be Shikarpuar Imambargah incident which left around 60 people dead in 2015 or Jacobabad suicide attack or the recent Sehwan blast, all send out the message that extremist groups have made inroads in the land of Sufis.

"This is a conspiracy against Sindh and specially PPP. Some elements through their nefarious designs want to gain control through spreading terror, but we will not let them succeed," Chandio said without giving out names.

Another leader said that the recent attack not only impacted upcoming elections, but it could also postpone the census, which is scheduled to start from mid-March in the province.

PPP has borne the brunt of terrorism with its leader Benazir Bhutto being assassinated in an attack carried out by terrorists. However, according to independent observers, the party and its leadership lack political wisdom and foresightedness in dealing with growing extremism in Sindh. "Majority of the people living in Sindh are not happy with the party endeavours, which has been in the federal government and has failed to bring reforms in madrasa curriculum and take action against extremist elements who publicly incite hate and extremism in the province,"  writer and civil society activist Nisar Khokhar said.

In solidarity: Lawyers boycott courts to protest Sehwan attack

According to Khokhar, feudal lords still have a stronghold and easily influence the police while the judicial system is weak and there is no strong intelligence network in the province.

"If the operation had started during PPP's last government against these groups, we would not have seen such a situation emerge in Sindh," he said.

"You can gauge the example from two facilitators of Sehwan bomb blast arrested by the police two days ago. They belong to PPP and have won local bodies election on the party's tickets," he said, adding that PPP will face resistance from its ranks in taking action against these people.

According to official data most of the blasts have occurred in cities and towns linking to border areas of Balochistan.

Published in The Express Tribune, February 22nd, 2017.
COMMENTS
Comments are moderated and generally will be posted if they are on-topic and not abusive.
For more information, please see our Comments FAQ