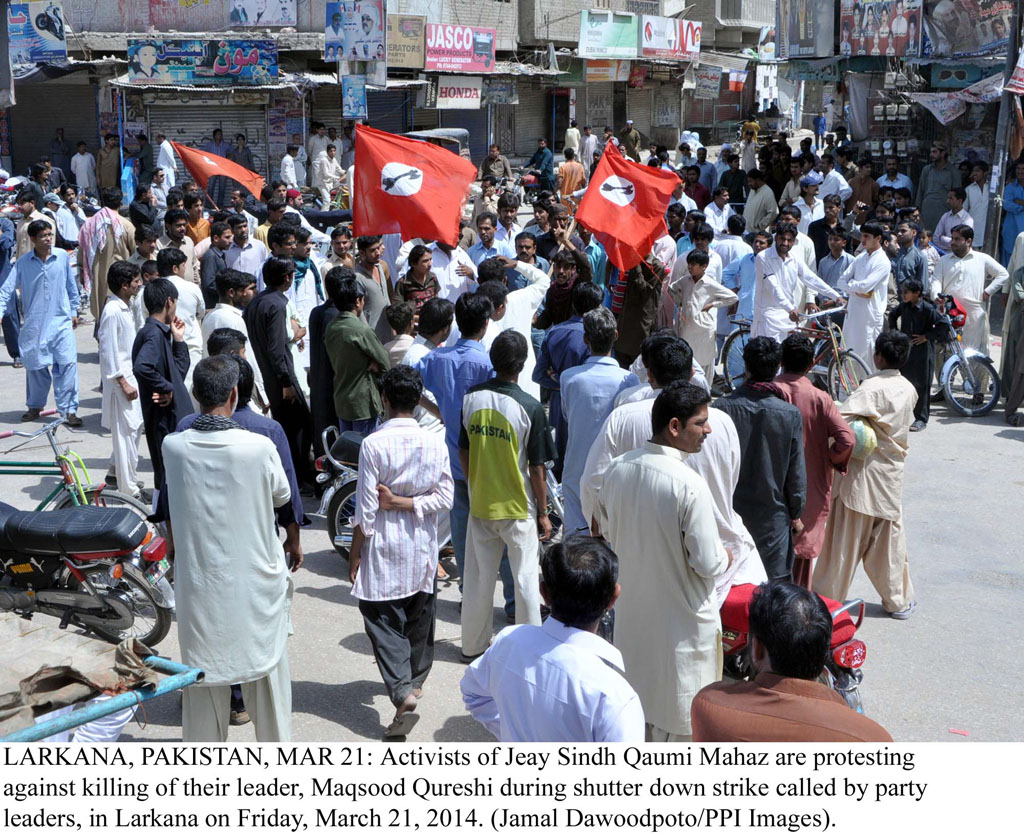 ---
HYDERABAD: A cracker explosion in Hyderabad on Sunday evening left more than 20 persons injured. Health authorities, however, claim that none of the injured were serious. In the wake of the attack, several Jeay Sindh Muttahida Mahaz (JSMM) workers and leaders were arrested.

"We received 24 injured persons among whom seven are admitted in the surgery ward, two in the neurology and three in the orthopaedic wards," Dr Pir Manzoor Ali, assistant medical superintendent of Civil hospital told The Express Tribune.

A bomb was hurled from Abdul Wahab Shah Jeelani Flyover at the shops underneath, which sell used shoes, according to Hyderabad SSP Irfan Baloch. He said that the unknown attackers, after lobbing the cracker, escaped.

"The bomb weighed around 10 grams and was filled with small ball bearings," said bomb disposal squad incharge Ramzan Panhwar. On August 14, 2016, terrorists attacked the same locality with a similar explosive device, leaving seven persons injured.

The place is a market for used shoes with shops and carts mostly owned by the Pakhtun community.

The SSP said the attack bears the signature of banned nationalist outfit JSMM, which called a strike on Monday to protest the China-Pakistan Economic Corridor (CPEC) but the impact of the strike was lessened by law enforcers. Security officials accuse the group, whose chief Shafi Burfat is in self-exile, of being funded by Indian spy agency Research and Analysis Wing.

Baloch said that no suspect involved in the attack has been arrested so far.

"Today the market was closed and only a couple of shops were open. I was sitting at a shop when suddenly the bomb exploded," said Muhammad Naeem, who was injured in the incident. "I don't understand from which direction it came," he said.

Another injured, Manzoor Ahmed, said that he was sitting on a cart when the small bomb went off close to him. The doctors said most of the patients have been hit by ball bearings with injuries mostly to their legs, head and back.

"I lost control of my motorcycle and fell after the explosion," said another injured person, Muhammad Waseem.

Hyderabad DIG Khadim Hussain Rind suspended and later restored Makki Shah police station SHO Imran Afridi, in whose limits the incident happened, for failing to provide security. The Makkhi Shah police lodged an FIR against unknown attackers. Sections of the Anti Terrorism Act and Explosives Act besides the Pakistan Penal Code have been inserted in the case.

Security sweep

In a security sweep following the cracker explosion, relatives of Shafi have been whisked away from Jamshoro. Over a dozen persons were detained in late night raids by the Rangers in parts of Jamshoro.

A sub-editor of the Sindh Express newspaper's magazine, Ghulam Rasool Burfat, who is also a brother-in-law of Shafi, is among those detained. "Rangers broke in the houses of our relatives in Sindh University society and colony late last night. They took away nine relatives," said Irfan Burfat, president of Jamshoro Press Club.

According to him, two brothers and as many brothers-in-law and a father-in-law of Shafi are among those detained. He said that the local police are denying the arrests.

Ghulam Haider Burfat and other relatives staged a protest in Jamshoro. They said that an officer of National Bank of Pakistan Zaheer Burfat and an employees' union leader of Sindh University Habibullah Burfat are among those arrested. "They were beaten during the raid. The Rangers also took away licensed weapons," Irfan alleged.

"JSMM is the only party which has launched a protest and called a strike against CPEC, which we consider enemy of Sindh," said Mumtaz Burfat, the sister of Shafi Burfat, at a press conference at Hyderabad Press Club on Monday. She claimed that the Rangers raided five separate houses of her family and took away nine persons.

"But we are here not just to protest against the enforced disappearance of our family members but all JSMM workers who are being captured from whole province," she said.

Mumtaz asserted that it is their democratic right to protest against CPEC because they consider the project harmful for Sindh. "But we understand that slave nations have no rights."

Published in The Express Tribune, February 21st, 2017.
COMMENTS
Comments are moderated and generally will be posted if they are on-topic and not abusive.
For more information, please see our Comments FAQ