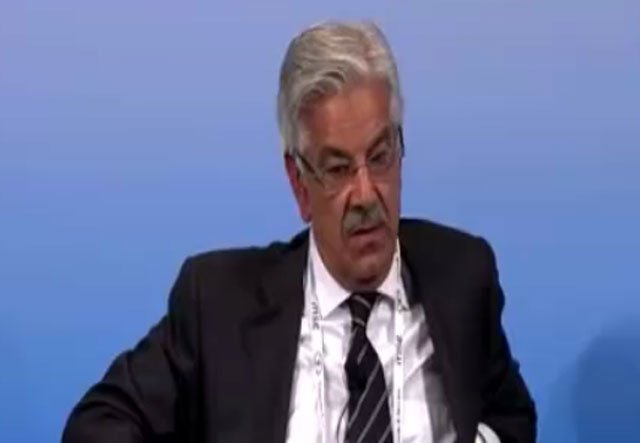 ---
Defence Minister Khawaja Asif has said terrorism is not synonymous to any religion, and equating militancy with Islam has in fact given a rise to extremism worldwide.

"Terrorism is not synonymous to any religion… terrorists are not Muslims or Christians or Buddhists or Hindus…they are criminals," the defence minister said while addressing the Munich Security Conference 2017 on Sunday.

Islam is not the source of terror: German chancellor

"This Islamophobia… it is fuel when terrorism is branded as Islamic terrorism. Since morning I have heard maybe a dozen times. President Trump uses it very frequently," he said. Meanwhile, he also denounced the seven-state ban, which was recently 'enforced' by the US.

"With all due respect, with all humility on my disposal, this ban on seven states, whatever perceptions the US has, has not helped the fight against terrorism."

In the most sweeping use of his presidential powers since taking office, Trump signed an executive order last month to pause the entry of travelers from Iran, Iraq, Libya, Somalia, Sudan, Syria and Yemen for at least 90 days. A US judge, however, had overruled the executive order.

Pakistan a frontline state against terrorism

Pakistan warns against defaming Islam

Asif said the recent spate of terror attacks across Pakistan has manifested that more is to be done.

"We'll counter this threat with full might of our state and we expect and hope that there will be cooperation from from across the border in Afghanistan… because it's a common fight," he said.

"We have made mistakes in the past [but] for the last three years our armed forces have done a very good job and we intend to continue that."

He assured the world community that Pakistan is a frontline state in this war and will continue to fulfill its obligations.

Published in The Express Tribune, February 20th, 2017.
COMMENTS (1)
Comments are moderated and generally will be posted if they are on-topic and not abusive.
For more information, please see our Comments FAQ