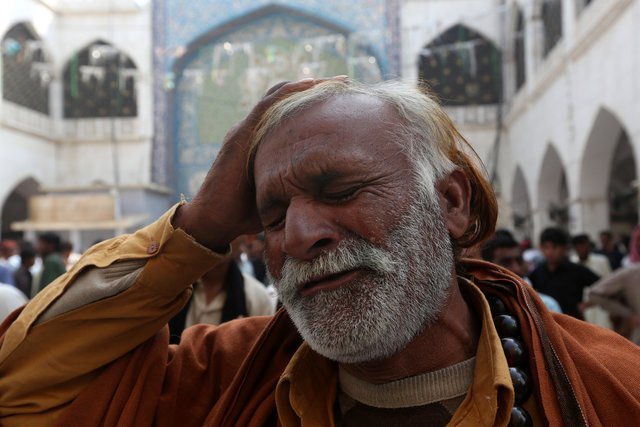 ---
KARACHI: The horrors of the bloodbath in Sehwan reverberated all the way to the small town in Kamber-Shahdadkot where a family lost eight of its members, most of whom were minors.

A Lal Shahbaz devotee, Muhammad Mohib Khohar, along with 100 people had gone to the famous Sufi shrine to celebrate the birth of his grandson. As struck by fate, he lost a majority of his family members in one of the deadliest attacks of Pakistan.

Khokar had made a pledge that he will visit the Qalandar's throne – known for delivering people their wishes – if a baby is born to his son. His wish was granted but the terrorist attack took away the short-lived happiness.

72 dead as suicide bomber strikes inside Lal Shahbaz Qalandar shrine in Sehwan

"As promised, I went to celebrate the joy but have brought haunting sorrows," he said, talking to The Express Tribune while crying over phone.

According to his family members, they had hired a rented bus and reached the shrine just 30 minutes before the deadly blast.

"We went inside the mazaar and most of family members were sitting in the area where the dhamaal was being performed. Suddenly we heard a loud blast and there were smoke, limbs and cries everywhere," Khokar recounted.

Fearless devotees perform dhamaal at Lal Shahbaz Qalandar

He added that they have received eight bodies while six others are still missing. "Among the dead, only one person was 25 years old. All others were minors and aged less than nine years," he said.

According to Kamber-Shahdadkot deputy commissioner Shahmeer Bhutto, they are trying to trace four other minors who are also feared dead. The victims belong to the lower-middle class and are daily wage earners. The deputy commissioner said the government will give Rs0.5 million to the family of the deceased and Rs0.2 million to those who sustained injuries in the blast.

Another devotee of Lal, Muhammad Punhal, 27, lost his two-year-old daughter Sumeera. After the incident, Punhal lost consciousness as doctors said he is in deep shock and it will take time for him to recover.

"He had only one daughter who along with her mother went to Qalandar's Shrine with other family members. Her mother sustained injuries but her precious daughter died," Fida Bhatti, a local journalist shared.

The local district administration said seven-year-old Mujahid, nine-year-old Owais, eight-year-old Shahzaib, and seven-year-old Zameer are among the dead.  They all hailed from the same town.

Khokhar's family says they have been searching various hospitals in Hyderabad, Nawabshah, Jamshoro and even Karachi since the blast took place but couldn't know the whereabouts of six other people including four minor children.
COMMENTS (1)
Comments are moderated and generally will be posted if they are on-topic and not abusive.
For more information, please see our Comments FAQ