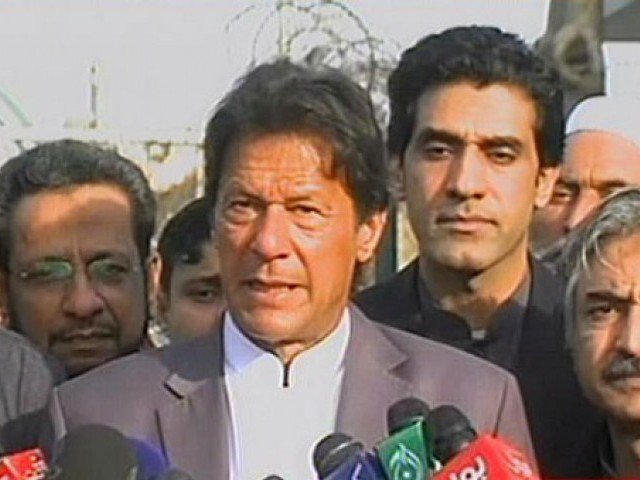 ---
LAHORE: If the National Action Plan (NAP) against extremism were implemented in true letter and spirit, terror attacks like the one at Charing Cross would have never happened, said Imran Khan on Tuesday.

Talking to reporters, the Pakistan Tehreek-e-Insaf chairman berated the government on its failure to control terrorism incidents across the country while condemning the suicide bombing in Lahore that left 15 people dead and 80 more injured.

Imran stressed the need for properly implementing NAP against terrorism, which was devised after the deadly Peshawar school attack in December 2014.

"Pakistan Army and Rangers cannot root out terrorism from the country if the government fails to reform the police force," he said, adding the Khyber-Pakhtunkhwa (K-P) government, which is led by his party, had introduced a new law for reforming the police department.




The PTI chief alleged the ruling party was reluctant to implement NAP in Punjab and the chief minister himself had said there was a no need of purging operations in Punjab.

"The PML-N leadership does not want to reform police as the rulers use them against their rivals," he claimed. "Fake FIRs are registered in Punjab. What do you expect from police which is run by the chief minister's son?"

Imran wondered if a Rangers-led operation could be conducted in Karachi and other parts of the country, why a similar crackdown was being avoided in Punjab. "Is the government trying to save someone? This is not a question of good or bad Taliban," he maintained.

He asked when all political parties, including the Muttahida Qaumi Movement (MQM), were signatories of NAP, why could the government not implement the anti-terror strategy across the board?

"The issue of terrorism cannot be resolved until the government starts the rehabilitation and reform process in FATA," he believed, adding there was a dire need to merge K-P and Federally Administrated Tribal Area.

The PTI chief lamented the state machinery was busy in saving Prime Minister Nawaz Sharif in the Panamagate scandal and not paying attention to their core responsibilities. "We had asked the premier to step down from his office and defend himself in court but the whole system has been put at stake," he said. "We have put forward the same demand, which the Sharif family did against former prime minister Yousaf Raza Gillani in the Memogate scandal."

Imran had earlier visited the Sir Ganga Ram Hospital and met with the injured victims of Monday's blast. He also condoled with the family of martyred CTO Capt (retd) Ahmed Mubeen.

Published in The Express Tribune, February 15th, 2017.
COMMENTS
Comments are moderated and generally will be posted if they are on-topic and not abusive.
For more information, please see our Comments FAQ