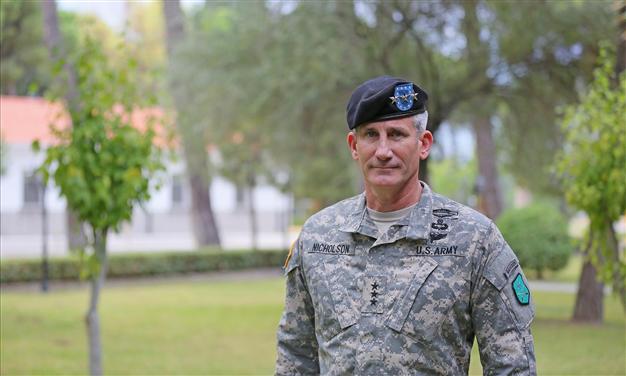 ---
ISLAMABAD: Pakistani officials on Friday played down remarks by the top US commander in Afghanistan who urged the new administration for a 'holistic review' of America's relationship with Pakistan.

General John Nicholson told the Senate Armed Services Committee on Thursday that Taliban fighters and the Taliban-aligned Haqqani network continued to find sanctuary across the border in Pakistan's tribal areas, The Washington Times reported.

Gen Nicholson calls on COAS, appreciates army's fight against terror

"We need to do a holistic review of our Pakistan policy," said the US commander, adding that more American troops were needed to break the 'stalemate'.

Pakistan avoided issuing any official comment but a senior official said there was nothing new or significant in Gen Nicholson's statement. However, he said that the remarks reflected the American military's "frustration over security challenges they are facing in Afghanistan".

"There would be negative and positive statements coming out of Washington as Indian and Afghan lobbies are also active (there). But the … messages we have received by the Trump administration are positive," the official told The Express Tribune.

He also referred to the Thursday's telephonic conversation between the US Defence Secretary Jim Mattis and Army Chief General Qamar Javed Bajwa and said that Americans "acknowledge Pakistan's sacrifices".

"They (the Americans) realised our importance and relevance. They also realise that negative statements can spoil the (friendly) atmosphere," said the official, who requested not to be identified.

According to him, the US was focusing on Da'esh, adding that this organisation had no organised presence in Pakistan and operated from Afghanistan.

"Pakistan is ready to cooperate with the United Sates to counter the emerging threat of Daesh in Afghanistan," the official said.

"So far there is no major negative vibration from there (the US)," he said.

9/11 mastermind tells Obama attacks were America's fault

When asked if Pakistan expected any major change in the US policy on Afghanistan under President Trump, he said that priorities of the new administration were unclear at the moment.

"The US has not yet unveiled its policy whether or not they will send in more troops or go for reconciliation in Afghanistan. I think they have not made up their minds about what to do," he said.

He pointed out that some people in the new administration had Afghan experience, including Jim Mattis, and "I think they are waiting for Trump's decision."

Jim Mattis had once served as the Head of the Central Command that also oversaw wars in Afghanistan.

Published in The Express Tribune, February 11th, 2017.
COMMENTS (9)
Comments are moderated and generally will be posted if they are on-topic and not abusive.
For more information, please see our Comments FAQ