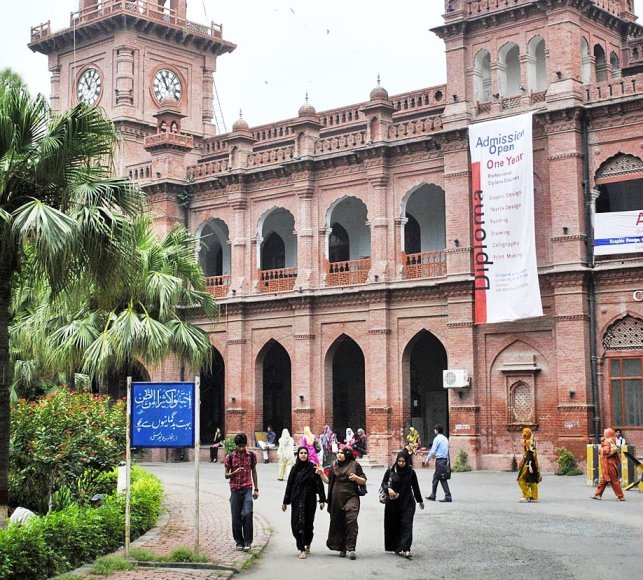 ---
LAHORE: A scuffle between activists of two student unions at the Punjab University (PU) on Friday left several students injured and police had to use teargas to control the situation.

Officials and police said members of the Islami Jamiat-e-Talaba (IJT) and Pakhtun Education Development Movement (PEDM) came face to face after a minor scuffle after the Friday prayer outside the PU mosque. Later, the two groups again scuffled at the Student Teacher Centre (STC).

The situation, however, spiralled out of control when the two groups came to blows once again outside the hostels. Muslim Town police was called-in when the students clashed outside PU's Hostel Number 1 and had to use teargas to control the students.

While the clash left several students injured, three of them were rushed to Jinnah Hospital for medical attention. Police have arrested a number of students from the hostel.

Iqbal Town SP Adil Memon told The Express Tribune that police took control of the situation and arrested four suspects from the university.

He added an FIR was not lodged as a committee had been formed comprising university administration, police and law-enforcement officials to investigate the matter.

A PEDM activist, Jaffar Khan Bazai, said the situation worsened when a group of IJT students attacked them again outside the hostels. Three PEDM members were injured and taken to the Jinnah Hospital, he added.

IJT spokesman Taimoor Khan said his organisation was not involved in the brawl and two Pakhtun student groups of the university had fought against themselves. He claimed several students were caught up between their fight and suffered injuries.

In a statement, the PU spokesperson said the administration and security officials reached the spot of the clash immediately and Registrar Prof Dr Naeem Khan held negotiations with both groups after which the students dispersed peacefully.

On the directions of PU's acting vice-chancellor Prof Dr Taqi Zahid Butt, a three-member inquiry committee has been formed to look into the case and submit its report in three days.

Talking to reporters, Dr Naeem said action would be taken against all suspects involved in the clash as per the recommendations of the inquiry committee.

"The university administration will ensure peace on the campus at all costs and violence will not be tolerated," he said.

This is the third such incident at the PU after the change of administration on December 28 last year. Faculty members and students have frequently voiced concern over the policies of PU Vice-Chancellor Dr Zafar Moeen Naseer, who after taking charge had taken a 'soft' approach towards the IJT, which has a track record of violence at the varsity.

Published in The Express Tribune, February 11th, 2017.
COMMENTS
Comments are moderated and generally will be posted if they are on-topic and not abusive.
For more information, please see our Comments FAQ