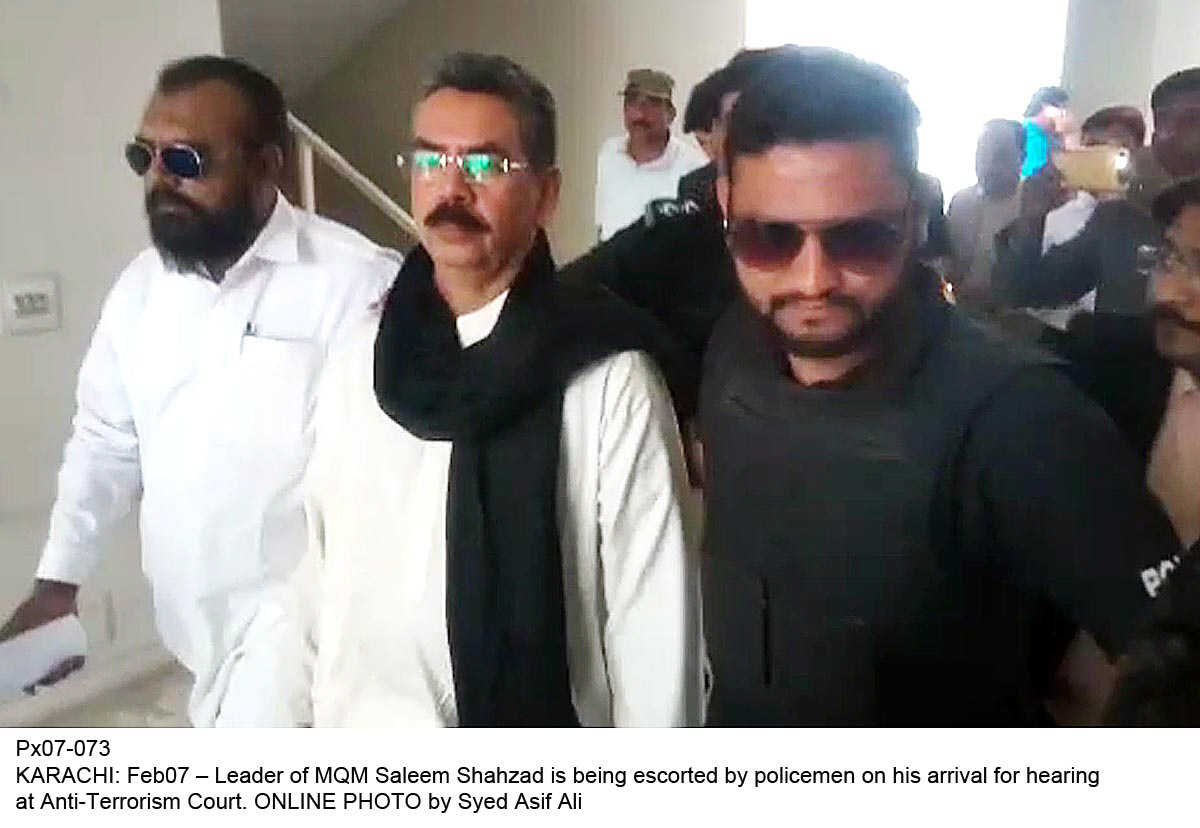 ---
KARACHI: An anti-terrorism court (ATC) remanded on Tuesday Muttahida Qaumi Movement (MQM) leader Saleem Shahzad to prison, seeking charge-sheet from the police against him in a terrorism facilitation case by February 18.

Shahzad was arrested a day ago as soon as he landed at Karachi airport and ended his self-imposed exile lasting over two decades. He was a top-tier leader of the MQM in London until 2013, when he was removed by party chief Altaf Hussain from the Coordination Committee and later expelled from the party.

He was the only absconding suspect in the terrorism facilitation case in which former petroleum minister Dr Asim Hussain, MQM MPA Rauf Siddiqui, Karachi Mayor Wasim Akhtar, Pak Sarzameen Party President Anis Kaimkhani, Pakistan Peoples Party leader Qadir Patel and Pasban-e-Pakistan general secretary Usman Moazzam have obtained bail.

According to the prosecution, Shahzad, like the other co-accused, asked Dr Asim for favours to provide shelter and medical treatment to suspected terrorists injured in clashes with the police or otherwise at his privately-run Ziauddin Hospitals in Clifton and North Nazimabad.

The police brought him to the ATC complex in Clifton amid tight security from the Gadap police station, where he was kept after his arrest. Before taking him inside the courtroom, the law enforcers allowed him to meet his lawyer and some family members.

During the hearing, the investigation officer of the case, DSP Altaf Hussain, told the ATC-IV judge that the suspect was arrested from the immigration counter at the airport as per the orders of the court.

The ATC-II, which is conducting the trial, had declared him a proclaimed offender a few months back after the police submitted that he was out of the country and could not be located.

The IO moved his application in the court, proposing that the suspect should be sent to jail on judicial remand.

Meanwhile, the special public prosecutor representing the Rangers, which is the complainant in the case, opposed.

The prosecutor, Sheikh Sajid Mehboob, argued that the suspect should be sent into police custody on physical remand for the purpose of interrogation instead of being sent to jail.

Meanwhile, Shahzad's lawyer also moved applications in the court, seeking B-class, better facilities and medical assistance for his client inside the jail. The court allowed medical assistance immediately while putting off the B-class matter till February 11.

The MQM leader complained that the police had confiscated his luggage from the airport and he did not even have a pairs of clothes to wear. Pointing towards the clothes he was wearing, he said that somebody lent him these.

The judge asked the IO what belongings of him were with the police, to which the officer replied that he was ready to hand over necessary and daily use items to the suspect.

Published in The Express Tribune, February 8th, 2017.