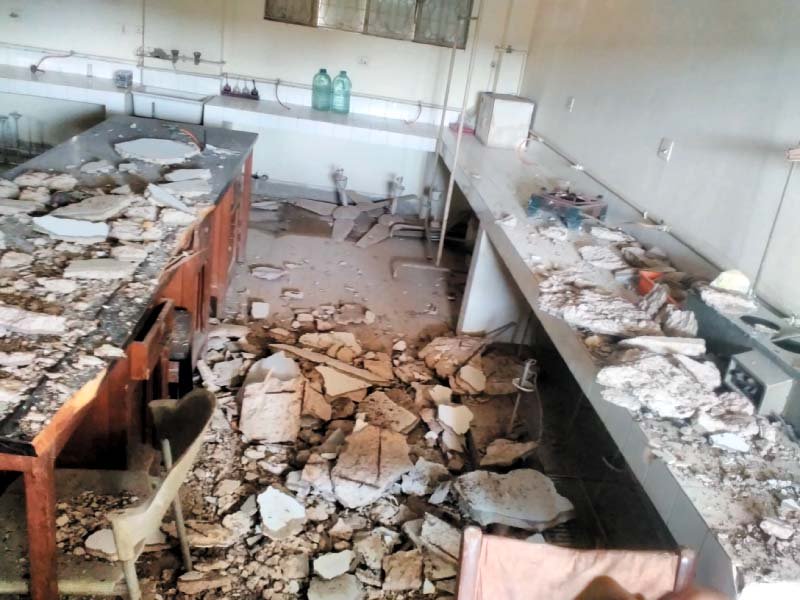 ---
KARACHI: Mustansir Abbas, a final-year student of microbiology department of the Federal Urdu University of Arts, Science and Technology (Fuuast), was saved by luck - he had gone to another laboratory for his practical class when a six-foot-long part of the ceiling fell in the laboratory he was earlier sitting in.

It was Tuesday afternoon when Dr Sehar Afshan Naz shifted the venue of her exam to a smaller laboratory from the unfortunate lab whose plaster fell on the equipment and furniture. "It is not the first time that such an incident has happened," said Dr Naz. "It's [the] fourth time in [the] last three years. Several patches have fallen off the ceiling." Dr Naz is a faculty member at the microbiology department and has been teaching there for 13 years.

The building, which hosts the microbiology department, has six more departments of science faculties with various research and practical labs. The Bachelor's of Science block is almost five decades old, which was repaired twice in the recent past.

The faculty members time and again complained to the former vice-chancellor and registrar as well as the current officials but they do not take the issue seriously.

At the site, Abbas, the final year student, pointed at another three-foot-long patch behind the recently collapsed part. According to him, this had fallen three months ago and has yet to be repaired. "The officials have new buildings made for themselves and are sitting in air-conditioned rooms while the students have been left to die in these perishing buildings," he lamented.

Asif Ali, a former registrar who was also a faculty member of the microbiology department, said that while repair work was done in the past, it was not up to the mark. According to him, only some areas in the microbiology department were repaired and the rest was said to be good enough for holding classes. Each class has at least 60 students in the morning and evening sections.

"The former VC got the work done as a formality and no proper material was used in the repair works," said Ali. He added that he had written many time to the former VC, Dr Zafar Iqbal, for the repair of the building.

Meanwhile, the VC of the university, Dr Suleman D Muhammad, said that the building is 45 years old and has completed its life already. "Since 2016, proper work of repair is going on in the block," he said, refusing to share the amount specified for repairs from the annual budget of the varsity.

Published in The Express Tribune, February 8th, 2017.