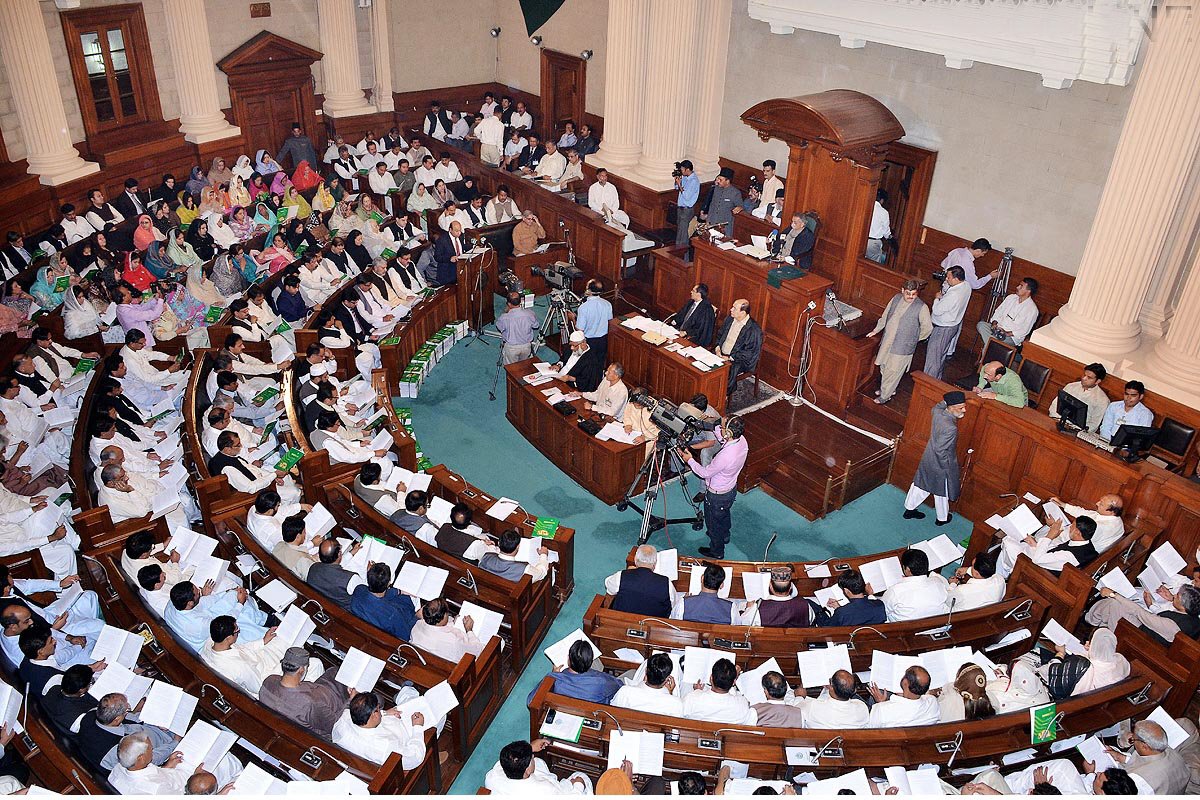 ---
LAHORE: Female lawmakers on the treasury benches of Punjab Assembly have demanded an increase in salaries in the light of the increment given to their counterparts from the neighbouring province of Khyber-Pakhtunkhwa.

Speaking on a point of order, Dr Farzana Nazir put the demand in the House claiming the salaries of the K-P assembly members now stood at Rs150,000 per month, which was a handsome amount compared to their salaries.

Around 10 female legislators also stood up seconding the demand of their colleague while some were seen requesting their male counterparts to stand up to join their demand.

When the speaker tried to hush them up, Dr Farzana continued questioning why their salaries could not be increased.

Punjab Law Minister Rana Sanaullah stood up to respond and said he did not know about the recent increase in salaries of K-P lawmakers.

He requested the speaker to direct the assembly secretary to look into the notification and if this was correct, then the matter will be taken to the Punjab chief minister.

Sanaullah said the CM had been asking the lawmakers not to take salaries above the salaries of other assembly members but it should be equal to them.

Despite clear instructions of Punjab Assembly Speaker Rana Muhammad Iqbal Khan in the previous session to start proceedings on time, most of the legislators did not arrive before 3:35pm against the scheduled time of 2pm.

The previous sessions held on February 3 had started at 10:16am rather than the scheduled 9am, upon which the speaker had warned the legislators the House proceedings would be started timely next time.

On Monday, the opposition benches boycotted the assembly session against the unfair conduct of the speaker for holding the session on the direction of treasury benches and snubbing the opposition benches.

Opposition leader Mehmoodur Rasheed strongly condemned the Haroonabad firing incident, in which PPP South Punjab's information secretary Shaukat Basra was injured and his secretary killed in a clash. He claimed the Punjab police had repeated the episode of Model Town.

However, the speaker sent Chaudhry Shafiq and Sher Ali Khan to persuade the annoyed legislators but their attempt failed as they did not turn up.

Published in The Express Tribune, February 7th, 2017.
COMMENTS
Comments are moderated and generally will be posted if they are on-topic and not abusive.
For more information, please see our Comments FAQ