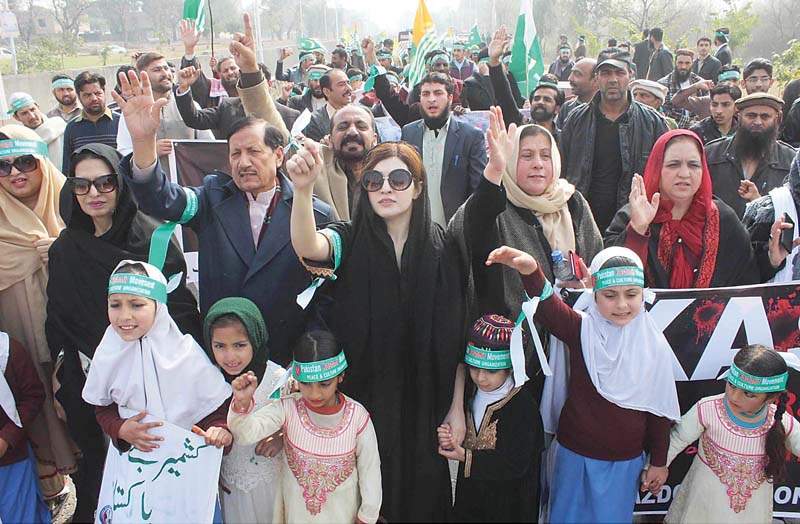 ---
ISLAMABAD/LAHORE/KARACHI: Political parties and activists took to the streets across the country on Sunday to express solidarity with Kashmiri people and to condemn the Indian occupation of Kashmir.

Various rallies were organised by different religious and political parties in Sindh, Punjab, Khyber-Pakhtunkwa and Balochistan to mark the Kashmir Day.

Activists, party supporters and a large number of citizens from all walks of life took part in these rallies.

All mainstream political parties took out rallies in different parts of the country.

Addressing the participants who gathered from all four provinces and Gilgit-Baltistan, JI chief Sirajul Haq in Lahore said the freedom struggle of Kashmir was neither an economic war nor a movement run on the basis of caste and creed.

"It is an ideological struggle. Hundreds of thousands of Kashmiris people have lost their lives in freedom struggle, while thousand of others have been disabled but they are not ready to give up," the JI chief remarked.

Criticising Indian Prime Minister Narendra Modi's government, he said India wanted to turn Pakistan into a barren piece of land by holding its water supply.

Addressing the PML-N rally in Punjab's provincial capital, Federal Minister for Railways Khawaja Saad Rafiq said India would starve to death if it did not give freedom to the people of Kashmir. He stressed that the United Nations must shun its double standards. Saad said his party would continue its support with the people of Kashmir. A Kashmir Day rally was organised by Pakistan Tehreek-e-Insaf (PTI) from Insaf House, PECHS, till Mazar-e-Quaid in Karachi. Kashmir is an integral part of the country and Pakistan will remain incomplete without Kashmir, expressed PTI Sindh president Arif Alvi.

Addressing the rally, Alvi said no one but the people of Kashmir themselves have the right to decide the fate of Kashmiris.

The PTI chief took to Twitter to condemn atrocities of Indian occupation forces in occupied Kashmir saying "We stand firmly with the Kashmiri people in their just struggle for self-determination in accordance with UNSC Resolutions and the UN Charter."

"We condemn the Indian military's brutal oppression of the Kashmiri people, including women & children, in IOK," he tweeted.

Meanwhile, a delegation of Kashmiris called on Pak Sarzameen Party chief Mustafa Kamal at his office on the occasion of Kashmir Day. The Kashmir issue must be resolved as per the demands of its people, he said. People in Azad Jammu and Kashmir formed human chains as they renewed their pledge to support the ongoing movement for the right to self-determination of people in IOK.

The same resolve was also expressed by people in Islamabad, Rawalpindi, Hazara division and G-B.

In AJK, human chains were formed at the main entry points of Kohala, Azad Pattan, Holard, Bararkot and Mangla Bridge which link AJK with the rest of Pakistan.

AJK PM Raja Farooq Haider said the people of Kashmir fully acknowledge Pakistan's political, moral and diplomatic support to their just struggle for right to self-determination. Farooq said the issue could not be resolved by bilateral dialogue and Kashmiris should be involved in the dialogue process. (WITH ADDITIONAL REPORTING BY OUR CORRESPONDENTS IN PESHAWAR AND QUETTA)

Published in The Express Tribune, February 6th, 2017.