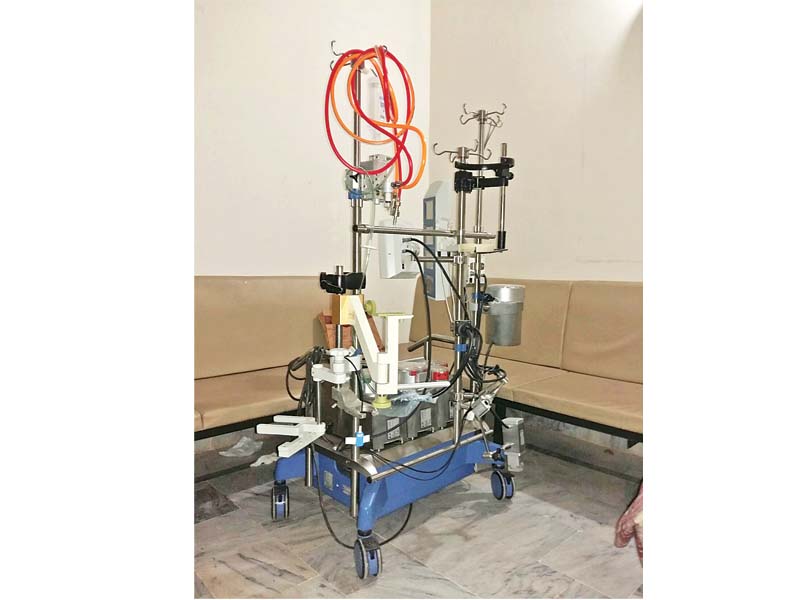 ---
LAHORE: The inauguration of the cardio emergency ward at the Mayo hospital is stuck in limbo as some doctors involved are taking seemingly little interest, The Express Tribune learnt on Wednesday.

It is believed that some of the doctors, who were given responsibility for the development of the ward, are involved in the unregistered stent scam that is the reason the opening is taking longer. The delay is taking place despite the fact that all arrangements have been made to make the ward operational.

Mayo Hospital cardiologist Dr Khuda Bux Dreshak told The Express Tribune on Wednesday that the CEO of the medical facility requested doctors to attend a meeting, but nobody showed up. In fact, the main accused in the stent scandal, Professor Dr Saqib Shafiq, has gone on a leave without informing the hospital's administration, he added.

"Those involved in the scam fear that they will be suspended just as the report of the stent scandal is finalised and made public," he added.

CEO Mayo hospital Dr Asad Aslam assured The Express Tribune that the cardio emergency ward would be made functional at all costs by sometime next week.  "We have made all appointments and bought the medical equipment. The ward will be opened next week," he assured.

Gravity of the situation

Three hospitals provide proper cardiovascular emergency facilities to around 10 million people of the city. The Mayo Hospital – one of the oldest and largest hospitals in Punjab – does not have a cardio emergency ward.

Due to the lack of a cardio emergency ward, most of the heart patients at the hospital are left unattended. The ones suffering the most are patients from districts close to Lahore such as Baghbanpura, Islamnagar, Shahadrah and other low-income regions.

These people are forced to visit other far away hospitals such as Jinnah hospital, Gulab Divi Hospital and the Punjab Institute of Cardiology (PIC), complained Dr Khuda Bux.

Due to the massive number of cardiac patients at the Punjab Institute of Cardiology, the doctors can be seen attending to patients on stretchers, chairs and even on the floor. "Conditions are more or less similar at all hospitals," he said, terming it a 'disaster-like situation'.

Published in The Express Tribune, February 2nd, 2017.